October 19, 2023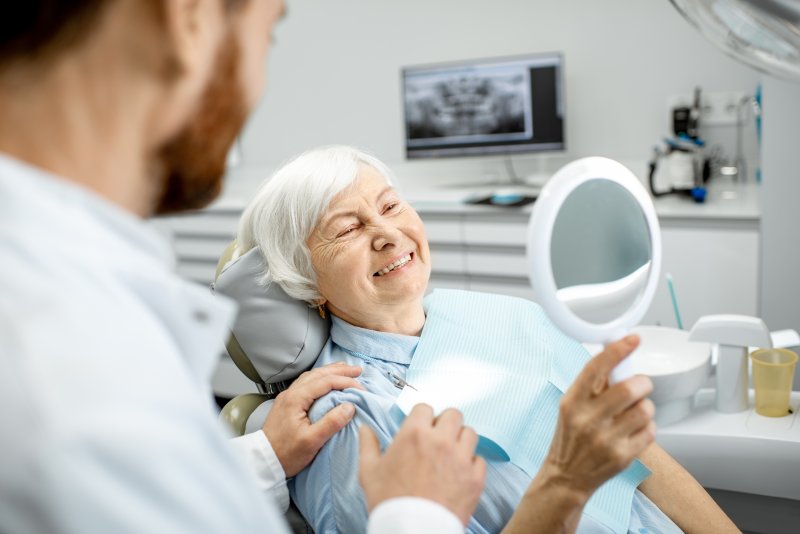 If you're dealing with missing teeth, you know the issue is harsh. After all, it deprives you of a full grin. Still, were you aware that it also erodes your jaw? Prolonged tooth loss will cause your jawbone to deteriorate. However, don't trust dentures to keep your face looking full; only dental implants will help. To learn more, here's a primer on why dentures don't offer jawbone preservation while implants do.
Tooth Loss Erodes Your Jaw
Most think tooth loss just ruins your smile, but it has other effects. In particular, it'll cause your jaw to lose bone tissue slowly.
You see, your jawbone needs all your teeth to maintain itself. It uses stimulation from chewing to preserve its tissue. Meanwhile, losing pearly whites deprives it of crucial stimulus. From there, your body will break down and reabsorb the bone tissue.
Current science supports this conclusion. In a recent study from the Indian Journal of Dentistry, scholars found that bone tissue near a missing tooth is lost quickly. As much as 25% of it can erode within a year of an extraction.
Dentures Don't Preserve Your Jawbone
Make no mistake: dentures are great replacement teeth. They do a great job at restoring patients' complete smiles. Regardless, though, they won't keep your jaw from losing bone tissue.
The issue stems from how dentures work. Namely, they fit over your gums and stay secure with adhesives or suction. Such a method can't stimulate your jaw enough. As a result, dentures won't stop your jaw from slowly eroding.
Due to this fact, denture users need lots of follow-up work. Since their jawbones shrink constantly, their dentures get loose and need refitting. The result is often a growing number of dental expenses.
How Dental Implants Can Help
Fortunately, dental implants differ from dentures. They're placed directly in your jaw sockets and thus fuse with surrounding bone tissue. In doing so, they stimulate your and maintain your jawbone's density. You then end up with a strong bite and a face that's fuller and firmer.
Of course, you can't expect such results at once. Implants need roughly six months to fuse with your jaw. That being the case, you need to be careful during this period. Bad oral habits could delay your recovery or cause the implants to fail.
Ultimately, dentures can't offer jawbone preservation; only implants can. Therefore, consult your local dentist to see if the latter option suits you!
About the Practice
Capehart Dentistry is based in Lewisville, TX. Led by Dr. Capeheart himself, our practice provides trustworthy and effective dental care. We thus offer preventive, cosmetic, and restorative services, as well as emergency dentistry options. Given this range of choices, our team is well-equipped to give you the best possible dentures and implants. For more details or to book a visit, you can reach us on our website or by phone at (972)-436-1325.
Comments Off

on Which Offers a Strong Jaw: Dentures or Implants?
No Comments
No comments yet.
RSS feed for comments on this post.
Sorry, the comment form is closed at this time.