Dental Bridges – Lewisville, TX
A Simple Answer for Addressing Tooth Loss
Have you lost one or more of your permanent teeth? Do the subsequent gaps in your smile make it difficult for you to smile, bite, or speak with confidence? Don't worry – there is a simple answer for addressing tooth loss: dental bridges in Lewisville. With this popular tooth-replacement option, Dr. Capehart can replace a single missing tooth or multiple missing teeth in a row. To learn more, keep reading or get in touch with our team!
What Is a Dental Bridge?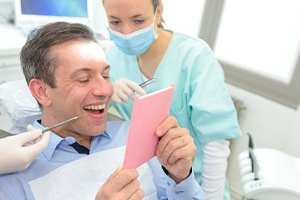 Today, dental bridges are one of the most popular restorative treatments. With their durability and lifelike look, it's not hard to see why! In short, this smile-rebuilding solution is ideal for patients missing one tooth or several consecutive teeth. To fill the gap, two dental crowns anchor the pontics (the artificial teeth) in place. Typically, the restoration is crafted from porcelain since it's incredibly durable and comes in a wide variety of tooth-like shades.
Types of Dental Bridges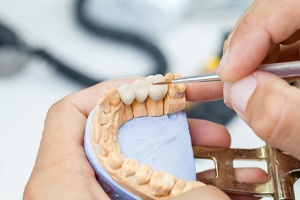 "Dental bridge" is often used as an all-encompassing term. However, there are actually two different types: traditional dental bridges and implant bridges. Here's a little more about both options:
Traditional Dental Bridge
Traditional dental bridges are ideal for patients missing 1-4 teeth in a single row. To bridge the gap, dental crowns are attached to the adjacent teeth, which secures the dental bridge in place. Since this option doesn't require any surgery, they typically have a quicker turnaround time and lower upfront cost.
Implant Bridge
Implant bridges, on the other hand, incorporate state-of-the-art dental implants. By anchoring them to either side of the gap, the restoration can securely be held in place for 15+ years (with proper care, of course). In addition to a longer lifespan, implant bridges preserve your jawbone and encourage the growth of new tissue.
The Benefits of Getting a Dental Bridge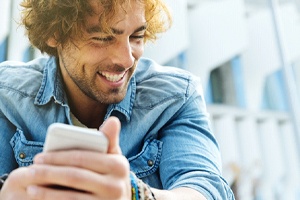 If you're considering using a dental bridge to address tooth loss head-on, there are a number of perks to consider. For example, they:
Are cost-effective
Improve your bite
Enhance your speech
Preserve your youthful face shape
Can last for a decade or more with proper care
Look extremely lifelike
If you're struggling with tooth loss, it's important to know that you don't have to endure gaps in your smile for the rest of your life. With modern, durable, natural-looking dental bridges, you can enjoy a complete smile (and all of the subsequent benefits) once more. To take the next step today, schedule an appointment with our skilled dentist in Lewisville!