Teeth Whitening – Lewisville, TX
Brighten Your Teeth for Flawless Smiles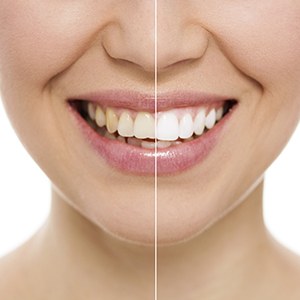 Dr. Capehart and our Lewisville team know how important it is to have a smile you can feel proud of. With teeth whitening in Lewsiville using the SDI Pola system, we can help you enjoy a brighter, more dazzling smile. Whether you're looking for a simple, in-office solution or would prefer to explore at-home options, Capehart Dental can help you cut through dark spots caused by aging, coffee, red wine, cigarettes, and even some medications to reveal whiter, more youthful teeth.
In-Office Teeth Whitening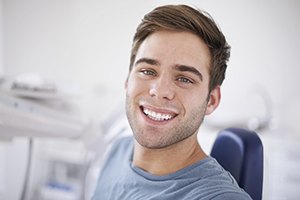 Pola offers two in-office options for you to take advantage of—Pola Office+ and Pola Zing.
With Office+, you'll come in for a 30 minute appointment, during which Dr. Capehart's team will first clean your teeth and then apply Pola's powerful, stain-fighting hydrogen peroxide gel. By exposing this gel to a special light, we can maximize your results, revealing a brighter smile in just a single visit.
Zing offers similar results, but with a different intent in mind. Specifically, Zing is designed to help patients looking for a way to jump start at-home teeth whitening treatment. If you'll be using at-home whitening to brighten your smile, Dr. Capehart will use this appointment to show you how to fill your custom-made whitening trays and will give you all the information you need to know on using Pola's products safely.
At-Home Teeth Whitening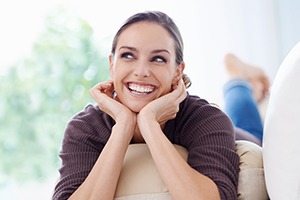 As with Pola's in-office teeth whitening options, there's more than one at-home option to choose from.
Pola Day is a hydrogen peroxide-based option that lets you focus on your busy day, not your smile. You'll just need to line your custom-made teeth whitening trays as Dr. Capehart recommends and wear them for the prescribed amount of time each day. Within days, you'll begin to see dazzling results.
Pola Night is similar to Day, except that its carbamide peroxide-based system lets you wear your aligners while you sleep at night, instead of during the day. For some patients, this is more convenient and more comfortable.
Any questions? Please contact our Lewisville, TX dental office. We would be happy to address any concerns you may have.