Teeth Whitening – Lewisville, TX
Brighten Your Teeth for Flawless Smiles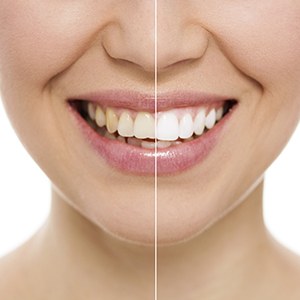 Dr. Capehart and our Lewisville team know how important it is to have a smile you can feel proud of. With teeth whitening in Lewsiville using the SDI Pola system, we can help you enjoy a brighter, more dazzling smile. Whether you're looking for a simple, in-office solution or would prefer to explore at-home options, Capehart Dental can help you cut through dark spots caused by aging, coffee, red wine, cigarettes, and even some medications to reveal whiter, more youthful teeth.
In-Office Teeth Whitening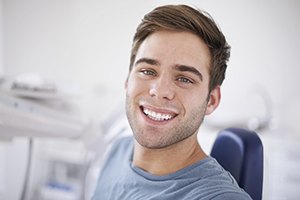 Pola offers two in-office options for you to take advantage of—Pola Office+ and Pola Zing.
With Office+, you'll come in for a 30 minute appointment, during which Dr. Capehart's team will first clean your teeth and then apply Pola's powerful, stain-fighting hydrogen peroxide gel. By exposing this gel to a special light, we can maximize your results, revealing a brighter smile in just a single visit.
Zing offers similar results, but with a different intent in mind. Specifically, Zing is designed to help patients looking for a way to jump start at-home teeth whitening treatment. If you'll be using at-home whitening to brighten your smile, Dr. Capehart will use this appointment to show you how to fill your custom-made whitening trays and will give you all the information you need to know on using Pola's products safely.
At-Home Teeth Whitening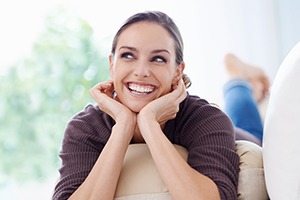 As with Pola's in-office teeth whitening options, there's more than one at-home option to choose from.
Pola Day is a hydrogen peroxide-based option that lets you focus on your busy day, not your smile. You'll just need to line your custom-made teeth whitening trays as Dr. Capehart recommends and wear them for the prescribed amount of time each day. Within days, you'll begin to see dazzling results.
Pola Night is similar to Day, except that its carbamide peroxide-based system lets you wear your aligners while you sleep at night, instead of during the day. For some patients, this is more convenient and more comfortable.
Any questions? Please contact our Lewisville, TX dental office. We would be happy to address any concerns you may have.
Teeth Whitening FAQs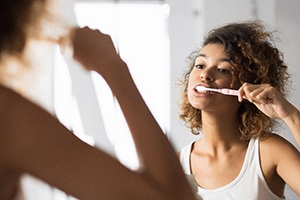 Are you looking forward to having your teeth whitened but have a few extra questions you'd like answered? Below, we've answered some of the most common concerns that we get from our patients looking into teeth whitening treatment.
Can whitening treatment damage your teeth?
Teeth whitening products that haven't been tested and approved by the ADA can cause enamel erosion and dental sensitivity. However, the treatments administered by your cosmetic dentist in Lewisville have been through countless trials and tests to ensure that they are completely safe to use on your teeth and effective. The ingredients have also been approved by the American Dental Association as well.
How long does teeth whitening last?
Teeth whitening results can last for over a year with the proper maintenance and oral hygiene. Here are some tips to help preserve your whitened smile:
Avoid stain-causing foods and beverages that are high in tannins.
Visit our office for touch-up treatments.
Use whitening toothpaste occasionally to help minimize discoloration.
Eat naturally whitening foods that also help strengthen your enamel, like white dairy products.
If you have any questions or would like some additional tips to help maintain your results, don't hesitate to ask our team during your appointment!
How long does it take to get your teeth whitened?
The length of teeth whitening in Lewisville treatment depends on how severe your discoloration is and what treatment kit you choose. At Capehart Dental, we offer in-office and take-home teeth whitening for our patients' convenience. In-office treatment typically takes place over the course of about an hour, while our take-home kits usually provide the best results within two weeks. If you'd like to learn more about either of these, you can also schedule a consultation with our cosmetic dentist, Dr. Capehart.
Can I get my teeth whitened if I have a dental crown?
Unfortunately, if you have a restoration, such as a dental crown or bridge, we don't recommend having your teeth whitened. This is due to the fact that your restoration is crafted from non-porous materials such as ceramic and porcelain, unlike your natural tooth enamel. That means that when we place the whitening solution onto your teeth, it will only effectively brighten your natural teeth, causing your restorations to stick out.
Does charcoal teeth whitening work?
Many people are turning to charcoal teeth whitening products since they're advertised as an effective way to brighten your smile. Unfortunately, activated charcoal is known to be abrasive and result in enamel erosion, which is why these products haven't been proven to be effective and safe by the ADA. Instead of risking your oral health, it's best to choose a treatment that is safe for your smile.