Emergency Dentist — Lewisville, TX
Quality Dental Care in Your Time of Need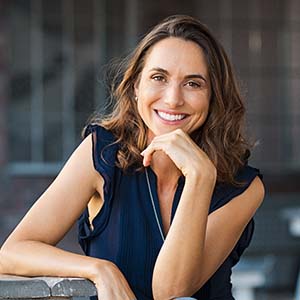 Have you ever had a dental emergency occur? If not, consider yourself lucky. These traumatic events can turn a relaxing day into a disaster. While you never know when an emergency will occur, knowing what to do and who to call when one happens will give you the confidence to handle a dental disaster. At Capehart Dental, we have numerous services to help when you need us most. We offer emergency dentistry in Lewisville, and we are even open on Saturdays to give you the expert care that you need, when you need it. Don't wait to call us today to get emergency care!
Why Choose Capehart Dental for Emergency Dental Care?
Works Hard to See You ASAP
Open During Late Hours and on Weekends
Affordable Financing Options In-House
How We Treat Dental Emergencies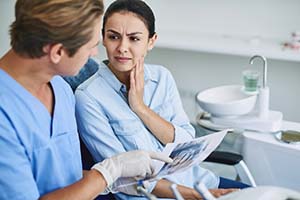 When you call our office: Our team will work to get you seen by Dr. Capehart as soon as possible when you call. We offer availability in the evening multiple days a week as well as on Friday and Saturdays, making it easier for you to get seen. A team member will be ready to provide first-aid tips over the phone to help manage your symptoms ahead of your appointment.
Emergency exam: Once you arrive, Dr. Capehart will promptly perform an emergency exam and confirm if digital X-rays need to be captured to confirm the cause of your symptoms. Along with getting you out of discomfort, finding the source of your dental emergency is our highest priority.
Review findings: After going over your findings with you, Dr. Capehart will recommend a treatment plan that resolves the cause of your emergency and prevents it from getting worse or coming back later. He'll break down the expected amount of time it will take to complete and estimated costs so you can make an informed decision on your care.
Get the professional care you need: Our team members will work quickly to get your dental emergency taken care of. While dental fillings, crowns, root canal therapy, and extractions are among the most common emergency treatments we recommend, other options may be considered if necessary.
The Most Common Dental Emergencies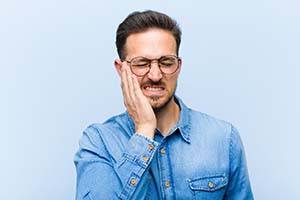 Dental emergencies typically fall into one of two categories: infection that usually occurs from poor oral healthcare and sudden physical injury or trauma. If an emergency occurs, you should call us immediately. In the meantime, use these tips on how to handle common emergencies ahead of your appointment at our office.
Understanding the Cost of Dental Emergencies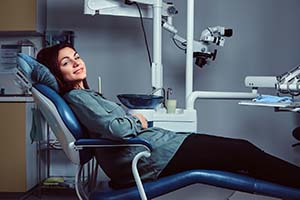 Dental emergencies can greatly vary in their cost because of the many different types of treatments that they require. Some emergencies can be treated with simple antibiotics, while others may require restorations like dental crowns or bridges. Because of the many variables that contribute to price, it's hard to give an estimate without examining your mouth. It's important that you get the dental care that you need in a time of emergency, which is why our team will do everything possible to provide you with quality and affordable dentistry.
How Much Does an Emergency Dental Visit Cost?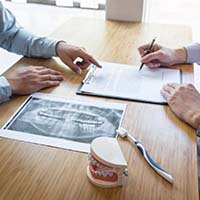 Because there are so many different types of dental emergencies, there is no set price for emergency dental care. Although you can expect an emergency visit to cost more than your standard checkup and cleaning, multiple factors must be considered when determining the cost, including:
The specific nature of your dental emergency
The type of treatment you'll need
Whether you'll require any follow-up treatments (such as a crown after root canal therapy)
Whether you choose to undergo sedation during your procedure
Your level of dental insurance coverage
In general, the more complex your treatment, the more it will cost. For example, an oral infection that only requires a prescription of antibiotics will cost significantly less than one that must be addressed with a root canal. When you arrive at our office, we'll focus on relieving your pain before giving you a cost estimate.
Your Financial Options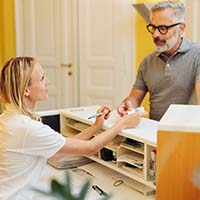 At Capehart Dental, we are proud to be in-network with many popular dental insurance plans, including:
Aetna
Ameritas
BlueCross/BlueShield
Delta Dental
Humana
MetLife
Principal Financial Group
United Healthcare
United Concordia
If you don't have dental insurance and you need assistance paying for your care, don't worry. We have financing options. We have partnered with CareCredit and can help you apply for one of their payment plans. Many of them come with little or even zero interest!
As an alternative to traditional insurance, we also have an in-house savings plan. With our Capehart Care Plan, all you do is pay a set fee every month or year. In exchange, all of your preventive care is fully covered, and you get a 10% discount on most other treatments.
Is Emergency Dental Care Worth It?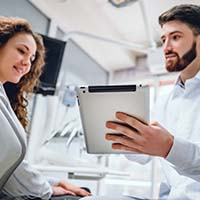 Absolutely! When an emergency occurs, it may be tempting to put off scheduling an appointment with your emergency dentist in Lewisville until you save up a bit more money. However, oral health problems tend to get worse the longer you ignore them. What started out as a cavity that only needed a filling may end up requiring a root canal or tooth extraction. By calling us soon after the emergency strikes, you can save quite a bit of money (and time) in the long run.
How to Prevent Dental Emergencies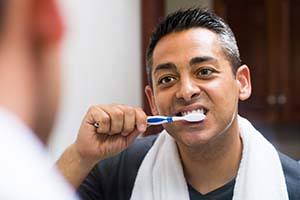 By their very nature, dental emergencies can never be planned for completely. However, many of them are preventable. In fact, the American Dental Association estimates that the vast majority of patients seeking urgent dental care for tooth decay or infection could have avoided the problem with proactive care. To help you safeguard your smile as much as possible, all you have to do is take these five easy precautions.
Visit Us for Regular Dental Checkups
Cavities, infections, and other oral health issues are often unnoticeable in their early stages. As a result, you might ignore them until they worsen and cause debilitating pain. That's why, if you truly want to prevent dental emergencies in Lewisville, you should visit our office for routine dental checkups and cleanings at least twice a year. Dr. Capehart can diagnose and treat dental problems before they spiral into full-blown emergencies later on. Additionally, by giving your teeth a professional cleaning, we can remove plaque buildup that might otherwise contribute to infections, decay, and other potential emergencies.
Maintain Good At-Home Oral Hygiene Habits
Of course, you'll also want to keep your smile clean in between checkups. Neglecting to brush or floss often enough will cause bacteria and plaque to accumulate on your teeth and gums. Over time, these particles can inflame your gums and weaken your tooth enamel, leaving you more susceptible to dental emergencies. To prevent this, make sure to floss at least once a day and brush twice daily for two minutes each time. Rinsing with mouthwash regularly can also help.
Be Mindful of What You Eat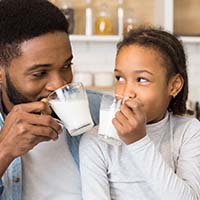 You're already aware that eating too many sweets can cause painful cavities. However, candy isn't the only type of food that can harm your smile. Indulging in too many acidic beverages or hard foods increases your risk for dental emergencies like tooth fractures and dental abscesses. When it comes to enjoying these items, moderation is key.
Make sure to incorporate plenty of mouth-healthy foods into your diet as well. In particular, foods that are high in vitamin C and calcium promote strong, healthy gums and teeth.
Wear a Protective Mouthguard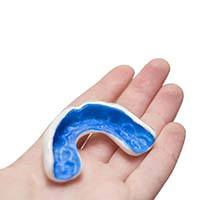 Even though tooth enamel is the strongest material in the human body, a sudden injury or long-term exposure to pressure can irreversibly damage it. If you play a sport that comes with the risk of impact to the face, be sure to wear a custom mouthguard from Dr. Capehart. This comfortable appliance fits over your teeth to protect them from an injury that would send you straight to an emergency dentist in Lewisville. Similarly, we can provide a custom nightguard to shield your teeth if you tend to clench and grind while you sleep.
Don't Use Your Teeth as Tools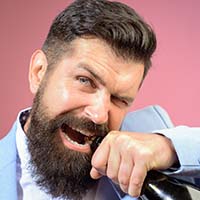 If you're in a rush, it might be tempting to use your teeth for things other than chewing food. Using your teeth to hold an extra bag of groceries, open a stubborn package, or take the cap off of a pen may not seem that dangerous. However, one wrong move could lead to a painful dental emergency. Avoid these temptations by always keeping the proper tool within reach.
Dental Emergency FAQ's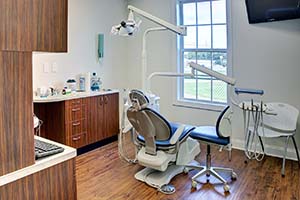 If you're like most people, you probably don't know what to do during a dental emergency. In fact, you might have several questions. Your emergency dentist is only a phone call away to help you through this difficult time. We can set you up with a same-day appointment and explain how to provide first-aid at home. In the meantime, here are the answers to many common questions about dental emergencies to help you prepare for your visit.
Should I go to the emergency room?
When you have an oral health issue that needs immediate care, you may think the emergency room at your local hospital is the place to go; however, in most situations, this should be a last resort. Most hospitals don't have dentists on staff. They also aren't equipped to handle dental emergencies. The most they can do is provide pain relievers or antibiotics until you can see your dentist.
Instead, it is always best to contact your dentist first. If you suspect your jaw is broken, you have uncontrollable bleeding, or you've suffered a medical emergency or injury, go to the ER first. We'll be here for you after you're released.
Do I still need to see a dentist if my toothache goes away?
Many people think an occasional toothache is normal, but it's never a good sign – even if it goes away after a few days. A toothache often indicates an underlying issue, such as gum disease, tooth decay, or an infection. It's best to see your dentist right away to get to the root cause of the problem. We'll evaluate your tooth to create the customized treatment plan you need to permanently stop your pain and save your smile.
I can't afford the dentist. Can I wait to go?
No one wants a large dental bill, but time is of the utmost importance when facing an oral health emergency. If you wait too long, it could cost you your tooth. We understand you're concerned about the cost, which is why we work with you to help find an affordable solution.
We'll work on your behalf with your insurance carrier to file the necessary claims and paperwork to reduce the amount you need to pay out-of-pocket. We also accept several forms of payment for any remaining balance. Besides traditional options, you can also choose third-party financing with CareCredit to save your smile without breaking the bank.
How can I prepare for a dental emergency?
Although you may think it will never happen to you, dental emergencies are quite common. In fact, 1 in 6 Americans face one every year. You don't want to be caught off guard if you find yourself in this situation. You can make the stressful time a bit easier by taking a few minutes to prepare for a dental emergency with an at-home kit that includes:
Our phone number
Saline solution
Handkerchief
Small container with a lid
Ibuprofen (Don't use Aspirin because it's an anti-coagulant, which can lead to excessive bleeding.)