Invisalign® Clear Braces – Lewisville, TX
Straightening Your Smile While Looking Your Best
Many adults are bothered by gaps in their smile or noticeably crooked teeth but aren't sure what to do about it. Wearing braces for months or even years while you've got a professional image to think about usually isn't a very enticing prospect. Fortunately, Dr. Capehart has an aesthetically friendly alternative: Invisalign in Lewisville. This treatment will give you the better smile you've always wanted without the need for unsightly brackets and wires. If you're interested in a consultation, contact us to make an appointment today!
How Does Invisalign Work?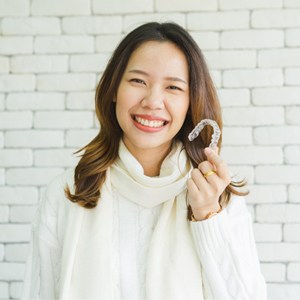 Invisalign uses multiple clear, custom-made aligners made and provided by the Invisalign lab. Each aligner in the set you receive will represent a different step in in the treatment. An individual aligner needs to be worn for at least 22 hours a day over the course of about two weeks before moving on to the next one. Dr. Capehart will schedule regular appointments (usually every six weeks or so) in order to make sure you're making progress; sometimes you'll need to wear an aligner for longer than usual.
Why is Invisalign a Good Choice?
As the name implies, Invisalign aligners are clear and hard to see when you're wearing them; only people who even know what they're looking for in the first place are likely to notice.
Because the aligners are removable, no changes to your diet are necessary; you can enjoy hard or sticky foods without worrying that they'll damage your appliance. Furthermore, you'll be able to brush and floss normally without having to work around any wires.
Invisalign aligners are made of a smooth plastic that feels comfortable in the mouth. You won't have to worry about metallic irritation.
Have a big event coming up that you need to look your best at? As long as you promptly put it back afterward, you can take your Invisalign out for an hour or so!
Am I a Good Candidate for Invisalign?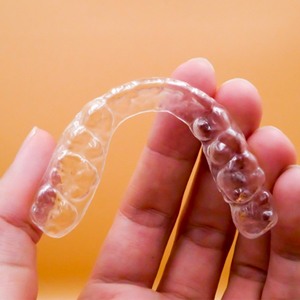 Invisalign can be used to treat a wide variety of orthodontic issues. Keep in mind, though, that for certain complex problems traditional braces might be the best answer. After an examination, Dr. Capehart will be able to tell you whether Invisalign can help with the changes you want.
In general, Invisalign is good for correcting:
Crooked teeth
Overbite, underbite and crossbite
Smalls gaps between the teeth
Open bite
Teeth that are crowded together
Note that since the aligners need to be left in the mouth for a certain amount of time each day, they're usually not suitable for young children that are prone to taking them out or forgetting them.
How Long Does the Invisalign Process Take?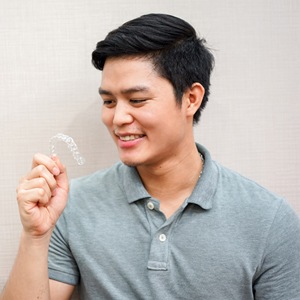 Depending on the severity of the problem, Invisalign treatment can take anywhere from 6 to 24 months. Simple cases such as slightly crooked teeth will generally only take about 12 to 18 months, while crowded teeth and other complex issues might take longer. Note that if you don't wear your aligners for the required 22 hours each day, the treatment is likely to take longer and might not be as effective in the end.
How Much Does Invisalign Cost?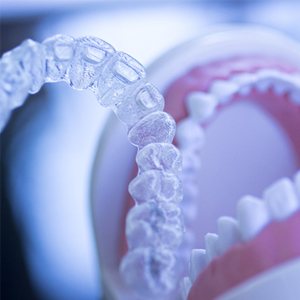 No two Invisalign treatments are alike; each patient will have a different number of aligners they'll need to get depending on the dental tissues being treated and how long it will take to make the changes. During your initial appointment, we'll take the various factors into account before giving you a highly accurate estimate that will let you plan ahead of time. Remember: Invisalign is an investment in a great smile!
Invisalign FAQs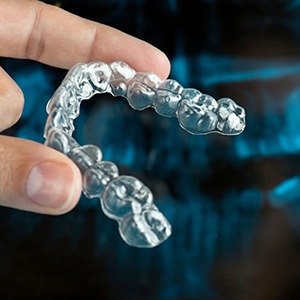 Invisalign in Lewisville is arguably the best way to align your teeth and reap all of the benefits of a straight and healthy smile. It's perfectly normal, though, for you to have some questions before going through with the treatment. That's why we've taken the liberty of answering some of the Invisalign FAQs that we get asked the most often.
Does Invisalign Hurt?
When you first receive your trays, or you switch to a new set of aligners, your teeth may feel a bit sore and sensitive. That actually means your treatment is working. Invisalign works by exerting a gentle pressure on your teeth to shift them into a more desirable position. This discomfort should subside after a few days, but in the meantime, you can alleviate the pain by taking an over-the-counter medication like ibuprofen or acetaminophen.
How Do I Keep My Aligners from Staining?
If you don't take good care of your aligners, they can quickly become yellow or brown, making them quite noticeable. Here are a few tips to prevent this:
Brush your teeth before every time you place your aligners in. Otherwise, food particles could get trapped between your teeth and aligners, staining your trays.
Brush your aligners every time you remove them. Do NOT use toothpaste, as that could be abrasive to the plastic.
Don't drink anything besides water with your aligners in, especially coffee or wine.
If you're a smoker, consider quitting. That habit can stain your aligners faster than anything.
Will Invisalign Affect How I Speak?
At first, yes. It might sound like you have a bit of a lisp. This is because there are a lot of sounds that are produced by placing your tongue against the backs of your front teeth, where your aligner now is. This new distance could be changed by Invisalign and your tongue may get a little confused at first. However, your lisp should fade away after a week or so as your tongue grows accustomed to your aligners.
What If I Lose an Aligner?
If you misplace an aligner and you only have a couple of days until you were supposed to move on to the next tray anyway, it's fine to go ahead and make the switch. On the other hand, if you just changed your tray and already lost it, it's best to give us a call. We can give you a replacement aligner to keep your smile on the right track. In the meantime, wear your last set of aligners to prevent your teeth from shifting back into their previous crooked state.
Will I Have to Wear a Retainer After Invisalign Treatment?
Yes. As soon as you stop wearing your trays, your teeth will naturally want to move back into their original position they were in before treatment. Although every case is different, you'll generally have to wear a retainer as often as you wore your aligners for the first few months after treatment is finished. After that, you might be able to only wear it at night.