Dental Implants – Lewisville, TX
Replace Lost Teeth from the Roots Up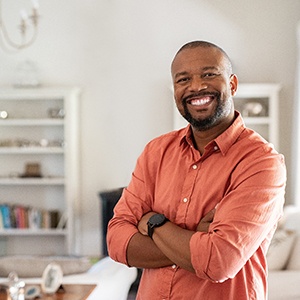 Losing teeth (whether it's just one or several) can have serious consequences for your oral health and day-to-day quality of life. Suddenly, even simple, enjoyable activities like eating a favorite lunch or joking with friends can become embarrassing and awkward. At Capehart Dental, our team offers multiple reconstructive services that can help you regain the complete, reliable smile you deserve, and dental implants in Lewisville are right at the top of the list. Are you ready for your first consultation? Contact our Lewisville, TX location today to schedule an appointment with Dr. Capehart. We're always happy to welcome new patients from other nearby communities too.
Why Are Dental Implants Right For Me?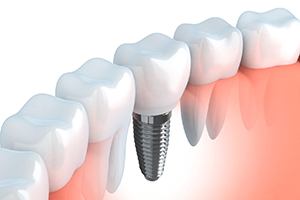 Unlike more traditional tooth replacement options, dental implants replicate the entire structure of your natural tooth, including the white crown and the root that's typically hidden under the gums. This strengthens the stability of the patient's jawbone and helps their oral health stay stronger over the years too.
Dental implants are versatile, and they can be used to successfully replace one tooth, several teeth, or even an entire arch.
Implant-retained restorations function just like natural teeth – this means that you can continue to eat your favorite foods and brush and floss like normal.
Dental implants have truly exceptional longevity; with the help of proper maintenance and hygiene, patients can expect them to last for the rest of their lives in many cases.
The Dental Implant Process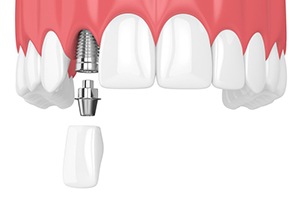 After determining that you're a good candidate for dental implants, Dr. Capehart will recommend you to a trusted specialist in the Lewisville area who can handle the surgical portion of your procedure. The new implant will need to be placed within the jawbone so that the patient's natural tissue can gradually form a bond with it. This months-long process creates a solid and enduring foundation for replacement teeth.
Once your mouth has successfully healed, it's time for the design, creation, and placement of new "teeth" here in Lewisville. Dr. Capehart will be sure to take your personal preferences and goals into account when planning the ideal restoration; several options are available, including individual, all-ceramic dental crowns and implant-retained dentures or bridges that cover multiple implants at once. No matter which you choose, the final result should be the same – a complete smile that looks and feels virtually indistinguishable from the original.