Dentures – Lewisville, TX
Fill the Gaps in Your Smile For Good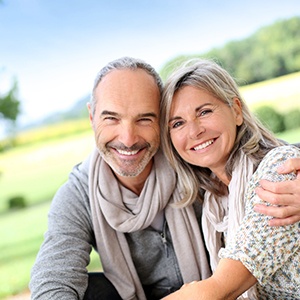 Did you know over 120 million Americans struggle with tooth loss? So, if you are missing one, a few, or an entire arch of teeth, you're certainly not alone. Fortunately, Dr. Capehart can restore your smile, bite, and speech with partial, full, or implant-retained dentures in Lewisville! To learn more about this modern solution to tooth replacement, don't hesitate to contact our office.
Why Replace Missing Teeth?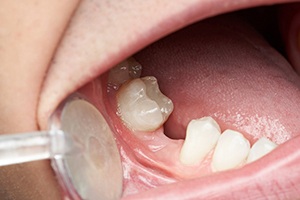 Aside from the cosmetic repercussions, one or more missing teeth can negatively affect your general and oral health. In fact, roughly 25% of bone loss occurs within one year of a missing tooth. Not only can this result in your adjacent teeth shifting, but it also can compromise your youthful facial structure. Plus, the gap in your smile can make it difficult to maintain a balanced diet, resulting in nutritional deficiencies and indigestion. Therefore, it's best to speak with our dentist in Lewisville when you first lose a permanent tooth.
What Are My Treatment Options?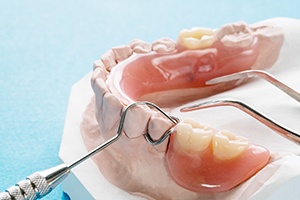 If the word "dentures" brings to mind visions of unnatural-looking, obvious prosthetic teeth, then you haven't been introduced to the modern ones used today! Depending on your unique dental needs, Dr. Capehart will recommend one of the below solutions to rebuild your full smile:
Partial Dentures
A partial denture is ideal for patients who are missing teeth but still have some of their natural ones intact. With this solution, the custom-made teeth and a gum-colored base hide the metal framework that discreetly clasps onto your remaining teeth, securely holding it in place. Since they are completely removable, maintenance of your oral health and your appliance is hassle-free!
Full Dentures
For patients who are missing an entire arch of teeth, a full denture is best. The same gum-colored acrylic base and all-ceramic teeth are utilized; however, a combination of suction and adhesive is used to keep the denture snugly against your gums. That way, you can chew, smile, talk, and laugh with minimal movement!
Implant-Retained Dentures
Implant-retained dentures are where state-of-the-art dental implants and dentures collide. By anchoring your new teeth in place with dental implants, you can enjoy all the benefits they are known for, like jawbone preservation, unmatched durability, and a 10+ year lifespan.
The Cost of Dentures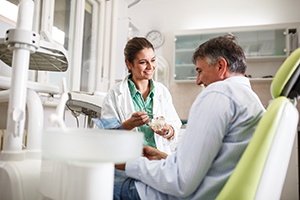 Since each patient's smile is unique, so are their dental needs. However, there are a few all-encompassing factors that influence the answer to this question, like which denture type you are getting, how many teeth are being replaced, and if your dental insurance plan covers a portion of your treatment. Don't worry – we will go over all these questions with you at your initial consultation and do everything we can to make sure your new teeth are affordable!
The Benefits of Partials and Dentures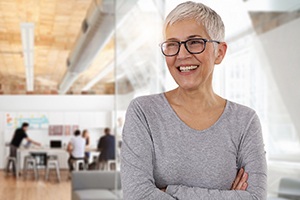 With so many tooth replacement options available, you may be wondering why dentures continue to be one of the leading services year after year. A few of the reasons include:
Natural-looking materials that can seamlessly restore your full smile
The ability to improve your bite force and speech
Hassle-free cleaning
Budget-friendly
If you are ready to trade in your incomplete smile for a full, healthy one, then it's time to contact our team at Capehart Dental. From there, you'll be one step closer to conquering the challenges of tooth loss!
Dentures FAQs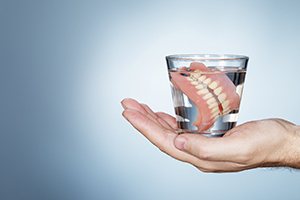 Now you know all about the importance of replacing missing teeth, the different types of dentures in Lewisville, and the benefits they come with. But there is still a bit more to learn before determining whether this tooth replacement option is the best one for you. That's why we have listed a few of the most frequently asked questions below. If you'd like to speak with our team directly about any questions you have, schedule an appointment!
How Do I Care For My Dentures?
Caring properly for your dentures is the key to prolonging their lifespan, as well as your new and improved smile and bite. Priority number one is to keep them free of bacteria, plaque, and food particles by brushing them daily with a soft-bristled toothbrush and denture-friendly toothpaste. To prevent them from breaking, make sure to handle them with care by keeping them in a protective case when they aren't in use. And, of course, visit our dentist in Lewisville, Dr. Capehart, every six months for dental checkups, cleanings, and adjustments.
Can I Eat Normally With Dentures?
Dentures today aren't only lifelike in their appearance; they are lifelike in function as well. With that being said, it may take some time to adjust to your prosthetic teeth, making soft foods an ideal option in the beginning. Once you've become accustomed to the way they move, you'll be able to work your way back up to your normal diet. Just do your best to avoid especially hard or chewy foods, like peanut brittle and ice. Like your regular teeth, all it takes is one wrong bite for a chip or crack to occur.
Can I Sleep With My Dentures?
In theory, yes. However, it's a good idea to give your gums (and your dentures!) a rest as you sleep. Instead, place them in a glass of a dentist-approved cleaner overnight. Not only will this preserve their shape, but it will keep them in pristine condition. By the morning, they will be fresh and ready for a full day of talking, chewing, and laughing.
Will My Partial Dentures Match My Natural Teeth?
Whether you are missing several teeth in a row or scattered throughout your mouth, you may be wondering if your prosthetic teeth will look obvious or obtrusive compared to your natural ones. The answer? Absolutely not! Each set of dentures are custom-made, ensuring the shade, size, and shape blends in seamlessly with your smile. In short, the fear of dentures not looking natural shouldn't stop you from getting the restorative care you need.
How Long Do Dentures Last?
Typically, dentures last anywhere between 5-10 years; it really depends on how you care for them and your oral health. Poor dental habits, like using tobacco products and neglecting your dental hygiene regimen, can significantly shorten their lifespan. In contrast, practicing proper prevention can make them last even longer than ten years.