Implant Dentures – Lewisville, TX
A Sturdy Solution for Multiple Missing Teeth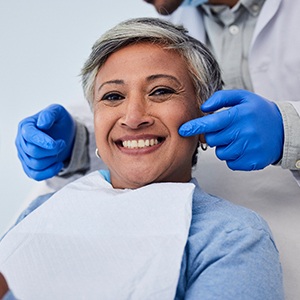 Even if an entire arch of teeth is missing, Dr. Capehart can help you replace them all in order to rebuild your smile. You could get a traditional denture, but doing so means that your new teeth might slip when you're trying to eat or speak. If you want a more sturdy and lifelike option, then implant dentures can definitely be worth considering. Get in touch with us today to schedule a consultation so that you can find out whether you're a viable candidate for implant dentures.
Why Choose Capehart Dental for Implant Dentures?
Partnered with Local Dental Implant Experts
High-Quality, Lifelike Restorations
CareCredit Financing Accepted
What Are Implant Dentures?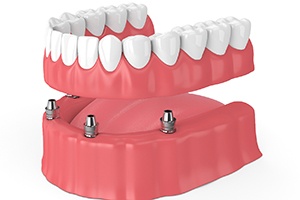 Implant dentures don't sit on your gums the way traditional dentures do; instead, they are attached to the jawbone with dental implant posts. Said posts can form a lasting bond with the jaw and act as artificial tooth roots. It's worth noting that implant dentures can fall under one of two categories: fixed and removable.
Fixed/Permanent Implant Dentures
A fixed implant denture will stay in your mouth 24/7. As a result, taking care of it is very simple; you just need to follow the same steps you would to keep your natural teeth clean. You normally expect to need four to six implant posts to support a fixed implant denture.
Removable Implant Dentures
As the name suggests, a removable implant denture can be taken out of your mouth at any time, which you'll typically do in order to clean it. Note that removable implant dentures often only require two to five implant posts – in other words, less than what you might need for a fixed implant denture.
The Implant Denture Process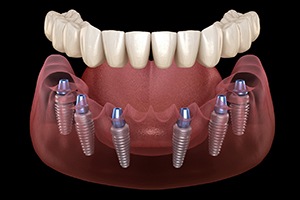 First, an initial consultation will be held to make sure that you're a candidate for dental implants (and to confirm whether you may need preliminary treatments such as bone grafting). A local specialist will surgically place the implant posts in your jaw. After allowing a few months for the posts to join with the bone, abutments can be attached. Then the final dentures will be designed and – during a final appointment – anchored to the implant posts.
Am I a Candidate for Implant Dentures?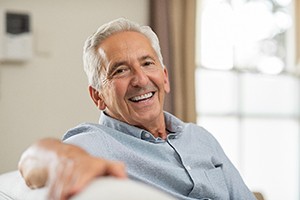 You can likely get implant dentures if:
You have lost an entire row of teeth.
You don't have gum disease or any other major oral health issues.
Your jaw has enough bone density to support dental implants.
You practice good oral hygiene and/or are willing to give up any habits that could put your implant dentures at risk.
Benefits of Combining Dentures & Dental Implants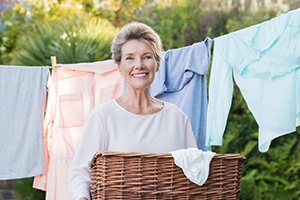 Not only are implant dentures lifelike in appearance, but they also feel natural, and there's no danger of them shifting or slipping the way traditional dentures sometimes do. Additionally, the stimulation the implant posts provide can actively prevent the deterioration of your jawbone. And if you take good care of your implant dentures, they can potentially last for more than 30 years.