Restorative Dentistry – Lewisville, TX
Regain Strong, Functional Smiles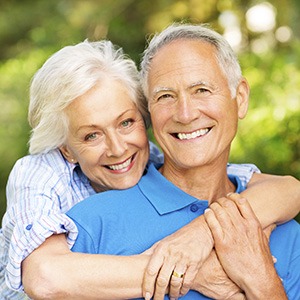 Cavities, injuries, missing teeth – dental problems come in all shapes and sizes, and they can happen for a variety of reasons. At Capehart Dental, Dr. Capehart and the rest of our team aren't here to judge. Instead, it's our goal to help you not only regain your best smile through dedicated restorative dentistry in Lewisville, but provide you with the support and quality education you need to avoid these concerns in the future. Please contact our Lewisville, TX location today if you're in need of assistance or if you have any questions we can help you with. Our dental office is also open to new patients from Highland Village, TX and other nearby areas.
Dental Crowns
Dental crowns are designed to protect and rebuild teeth in need of restoration. Whether a tooth has suddenly been broken in an accident or has developed a large cavity over time, dental crowns offer a reliable way to restore your smile's function, health, and appearance. Here in Lewisville, patients can trust in Dr. Capehart's high-quality, custom-made restorations. We always take the time to ensure that you're fully satisfied with the results!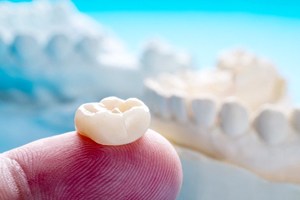 Learn More About Dental Crowns
Dental Bridges
Dental bridges can replace missing consecutive teeth in a fixed and permanent fashion. Whether you're missing one, two, three, or sometimes even four teeth in a row, this reliable restoration can give you a seamlessly complete smile once again. Our dental bridges are custom-made for every patient and are made of natural-looking, high-quality materials for the best results. If you're interested in replacing your missing tooth or teeth, give us a call today!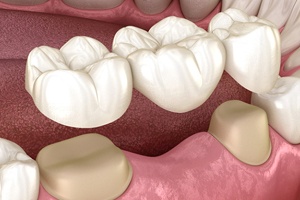 Learn More About Dental Bridges
Root Canal Therapy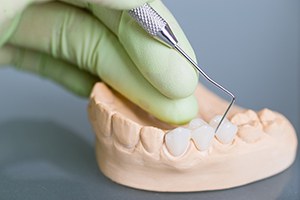 Instead of rushing to extract a badly hurting tooth, our team may be able to rescue and preserve it instead with root canal therapy. This procedure eliminates infection from deep within the dental structure so that patients can continue enjoying a smile that's wholly natural.
Learn More About Root Canal Therapy
Tooth-Colored Fillings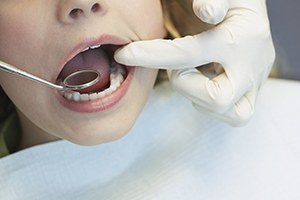 At Capehart Dental, tooth-colored fillings are now a much-preferred alternative to traditional amalgam. This simple and fast solution to tooth decay is seamlessly attractive and very comfortable within the mouth. Better yet, our team is able to preserve more of your natural tooth's healthy structure for stronger, longer-lasting results.
Learn More About Tooth-Colored Fillings
Full & Partial Dentures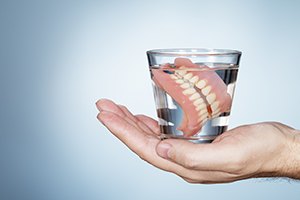 When a patient's tooth loss is extensive, a customized denture can provide the convenience and affordable reliability their smile has been sorely missing. Today's dentures are much more modern and lifelike than their traditional counterparts, and both the full and partial models are designed to be removable in nature, so patients can clean them and store them separately. If you're looking for more permanence to your tooth replacement solution, our dental office also provides implant-retained dentures!
Nitrous Oxide Dental Sedation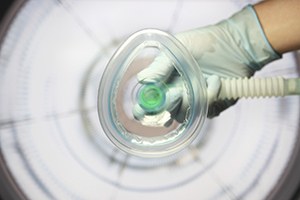 Patient comfort is a top priority for our dental team, and we do our best to treat each and every patient with the warmth and friendliness they deserve. However, if you still find yourself struggling with feelings of anxiety or fear, nitrous oxide sedation can be a big help. This "laughing gas" is safe for all ages, and you'll breathe it in through a nasal mask throughout your appointment. The effects wear off very quickly too, which means that you can go back to your daily routine and even drive yourself home without any trouble.
Sleep Apnea Therapy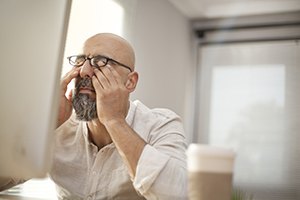 Do you regularly suffer from chronic, loud snoring that keeps the whole family awake? Are mornings exhausting for you, even if you got plenty of sleep the night before? These are common indications of sleep apnea, a dangerous health condition that occurs when a patient regularly stops breathing during rest and awakens constantly as a result. At Capehart Dental, our team is capable of treating obstructive sleep apnea (OSA) with a high-quality oral appliance. This form of sleep apnea occurs because of an airway blockage, and the "snoreguard" repositions the jaw and/or tongue so that patients can avoid this problem and breathe easy until morning.