Dental Crowns & Bridges – Lewisville, TX
Reliable, Long-Lasting Dental Restoration Solutions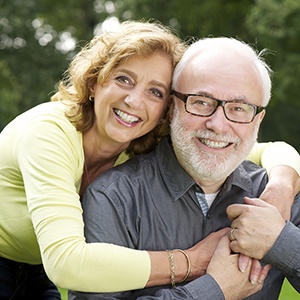 Damaging or losing a permanent tooth often affects the health and stability of your dental structure. Support and chewing movements are altered, and you also have a much higher risk of gum disease. Thankfully, a custom-made restoration form Dr. Capehart here in Lewisville, TX can renew your capable smile and bring back the oral function you're missing. Our dental office offers dental crowns and bridges in Lewisville for patients in need, and we look forward to helping you feel confident about the future of your oral health once more. Capehart Dental serves patients from Highland Village, TX and other surrounding areas – contact us today to schedule your appointment!
Dental crowns are meant to treat individual teeth that are badly decayed, injured, weakened, or cosmetically imperfect. The restoration (also known as a "cap") covers the natural crown and protects it from further harm, all while providing a suitable and attractive replacement on top that functions just like the original. Crowns are also used to treat teeth that have been cared for with root canal therapy and restore single dental implants.
Alternatively, fixed bridges (also known as "crown and bridge") are custom-made dental appliances that permanently replace one or more missing teeth. The bridge, which contains replacement porcelain teeth, is attached via crowns to the teeth on either side of the gap. A bridge can restore your natural bite and prevent stress on other teeth. Your smile will also look whole and beautiful again!