April 28, 2023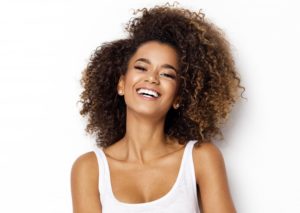 It was recently revealed that almost half of Americans think a great smile is the most alluring physical quality in a person. According to a survey for U.S. Today, 47% of respondents chose that as the feature that most attracted them to someone initially. But what are the exact qualities that make a flash of those pearly whites so beautiful? Read on to learn the four traits of a beautiful beam!
#1. Tooth Color
There is nothing quite like a bright smile! It not only makes you appear healthy but also more youthful. A recent study conducted by Oral B found that models with whiter teeth were perceived to be five to 10 years younger. Unfortunately, as time passes, teeth can become discolored due to factors like genetics, inconsistent oral health routines and visits, and consuming darkly pigmented foods and drinks (i.e., coffee, wine, tomato sauce). The good news is that professional teeth whitening can take years off your smile in just one dental visit or over the course of a few weeks with at-home customized trays and whitening gel solution.
#2. Tooth Size
A picture-perfect smile relies on perfectly sized teeth! If teeth are too large, they can throw the overall balance of a grin; if they are too small, they can cause a smile to be too "gummy". The correct-sized pearly whites bring an aesthetic balance to a person's face. However, even if your teeth are not the ideal size for your smile, there are cosmetic dental treatments that can help make them more uniform. Veneers are an effective and reliable way to transform your teeth in less than two appointments with your dentist!
#3. Tooth Position
Properly spaced teeth are essential to making a grin gorgeous. In general, they will touch just slightly, without having any gaps or overcrowding. A crooked smile can take away from the overall appeal of a face. Fortunately, modern orthodontics like Invisalign are discreet and comfortable. You can straighten your smile without virtually anyone knowing!
#4. Gum Tissue Color
Having a healthy mouth is key to having a beautiful smile. This includes your gum tissue! Gums that are in good condition are generally pink. If they become inflamed and red due to periodontal disease, it can make your smile less vibrant and attractive. However, the more serious concern is that an untreated infection of the gums can lead to tooth loss and other health issues throughout the body. By visiting your dentist every six months for your checkups and cleanings, they can keep track of your oral health and provide any periodontal therapy before the inflammation becomes worse.
About the Author
Dr. Christopher Capehart and his team at Capehart Dental keep the smiles of Lewisville healthy and beautiful. He earned his Doctor of Dental Surgery degree and graduated Magna Cum Laude from the University of Texas Health Science Center at San Antonio. With the belief that a beautiful smile can change a person's outlook, he offers a range of services, including preventive and cosmetic dental care. To schedule an appointment, contact him through his website or call (972) 436-1325.
Comments Off

on 4 Traits of a Stunning Smile
No Comments
No comments yet.
RSS feed for comments on this post.
Sorry, the comment form is closed at this time.