February 8, 2023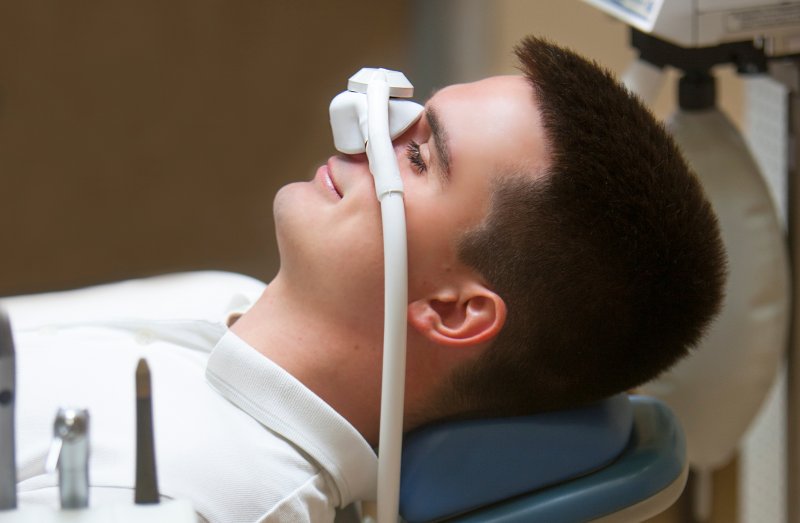 An unfortunate number of people are uneasy around dentists. Whether it's because they've heard horror stories or had a bad experience in the past, some people deprive themselves of the oral healthcare they deserve because of those anxieties.
For those patients, sedation dentistry, and nitrous oxide in particular, can be incredibly useful. If you're interested in making use of "laughing gas," you may wonder how it will make you feel, or whether it will knock you out before treatment. Here's a guide to everything you'd want to know about this method of sedation.
How does Nitrous Oxide Feel?
Nitrous oxide is a gas administered through a small mask placed over the patient's nose. It's one of many sedation options at a dentist's disposal, and among them, it tends to be the weakest. The aim of nitrous oxide is not to put a patient to sleep, but to make them more comfortable during dental procedures.
Does Nitrous Oxide Relieve Pain?
When dentists talk about sedation dentistry, they tend to mean something a bit different from Novocain. Nitrous oxide has no effect on pain, so if you're getting a procedure it'll be paired with a local anesthetic to ensure that you don't feel anything. That said, sedation can make every aspect of the procedure much more pleasant for everyone involved.
Who Can Benefit from Nitrous Oxide?
Patients sometimes think that sedation is reserved exclusively for extreme procedures, but in reality, anyone who thinks they would benefit from sedatives can probably get them. When used by a dentist in a professional context, nitrous oxide is completely safe; if you think that it would make an otherwise stressful procedure easier for you, you don't have to be shy about asking for it!
Nitrous oxide also has the benefit of keeping a patient conscious, which is useful for dentists who may need to communicate with the patient during treatment. It also means that you'll feel much less groggy after your appointment.
Your dentist's ultimate goal is to keep you comfortable during your treatment. If you think that nitrous oxide would be helpful to you, there's no harm in asking about it before your next appointment.
About the Author
Dr. Christopher C. Capehart is a dentist who loves being able to offer whole families the highest level of oral healthcare possible, completely changing the way they feel about themselves. Dr. Capehart received his dental degree from the University of Texas Health Science Center at San Antonio, where he was elected to the prestigious Omicron Kappa Upsilon Dental Honor Society.
If you have any questions about sedation dentistry, he can be reached at his website or by phone at (972) 436-1325.
Comments Off

on How Will Nitrous Oxide Make Me Feel?
No Comments
No comments yet.
RSS feed for comments on this post.
Sorry, the comment form is closed at this time.