March 1, 2021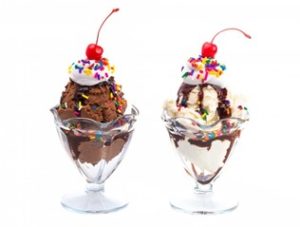 Is it possible to have too much of a good thing? Many enjoy ice cream when it's hot outside or at the end of a busy day. Sweets are definitely not smile-friendly, but what effects can this cold treat really have on your dental health? Keep reading to learn how ice cream can damage your teeth and the best way to protect them.
Dental Problems
For the most part, all types of ice cream are full of sugar. If you like to add your favorite toppings, like chocolate, caramel or sprinkles, your teeth may be even more at risk of dental issues than you think! Sugar from things like this feeds the cavity-causing bacteria on your teeth, leading to tooth decay. Studies show that around 90 percent of Americans have had at least one cavity in their lifetime.
Another dental problem that sugar can cause is gingivitis, the inflammation and bleeding of the gums. This is the first stage of gum disease and the only one with the possibility of reversal. If you already have gingivitis or frequently experience oral infections, ice cream can make things even worse. Sugar attaches to the gums and sparks the release of eroding acids that cause your gums to swell and bleed.
Protecting Your Oral Health
Though tooth decay is an incredibly common dental issue, it is much easier to prevent cavities than it is to treat them. Here are a few ways you can protect your smile:
Brushing your teeth twice a day for two minutes and flossing your teeth at least once a day will help minimize the presence of plaque and bacteria in your mouth.
After eating or drinking, wait 30 to 45 minutes to brush. The bacteria in your mouth start producing acids to break down food and drinks. These acids are powerful enough to soften your enamel. If you brush right after eating, your toothbrush could damage your teeth.
Reduce your sugar intake. Piling the gummy bears, sprinkles, caramel, chocolate or whipped cream may taste delicious, but they also pile sugar onto your teeth. Instead, try topping your ice cream with fresh or frozen fruit. You may also consider trading out the ice cream for low-sugar frozen yogurt.
Preventing dental issues does not mean that you have to fully give up sugar. Keeping these steps in mind can help minimize your risk of tooth decay and gum disease.
About the Author
Dr. Christopher Capehart is committed to helping the citizens of Lewisville achieve their healthiest and most beautiful smiles by offering top-quality, comprehensive dental treatments. He graduated in the top of his dental school class at the University of Texas Health Science Center at San Antonio and was elected to the Omicron Kappa Upsilon National Dental Honor Society. Dr. Capehart is a member of the American Dental Association and the Dallas County Dental Society and is dedicated to expanding his knowledge of the latest techniques by participating in continuing education programs. If ice cream has been wreaking havoc on your smile and you're ready to get your oral health back on track, visit the website or contact the office at (817) 873-3780 to schedule an appointment today.
Comments Off

on Will Ice Cream Damage Your Teeth?
No Comments
No comments yet.
RSS feed for comments on this post.
Sorry, the comment form is closed at this time.