February 3, 2021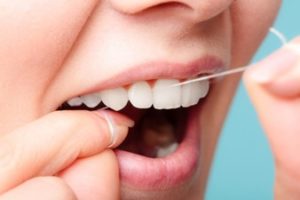 Taking proper care of your teeth by brushing and flossing should definitely be part of your regular dental care routine, especially if you have had dental work done. While there are no special care requirements for dental implants, having an effective oral hygiene routine is crucial to the longevity of your restorations. Here are 3 points to remember when flossing your dental implants.
Be Careful
When flossing your natural teeth, you can remove plaque and bacteria from the gum pocket without causing damage to your gums. But when it comes to flossing dental restorations like implants, there are no pain sensors available to alert you that you may be flossing too deep and breaking your peri-implant seal. Breaking this seal can result in germs sneaking below your gums and causing infection, which can shorten the lifespan of your restoration. Having a gentle hand when flossing is good for both your natural teeth and implants.
Cleaning Below Your Implant
Removing plaque, bacteria and food particles from the space below your implant is not too difficult. A floss threader, a device that can help you thread the floss beneath your restoration without causing damage, is a great dental tool to help keep your oral health on track. Another option is to use a water flosser. Studies show that these oral irrigators are proven to be safe and effective in reducing the presence of plaque and bacteria buildup, and minimizing the risk of gingivitis and gum disease.
Risks of Improper Flossing
Choosing not to floss or ineffective flossing puts you at risk of many issues that can range from implant failure to bone loss. The first risk is that floss shreds can get stuck between your gingiva and your implant, which has been linked to peri-implantitis. This condition includes the inflammation of the soft and hard gum tissues around your implant and can result in bone loss. Ineffective flossing can allow bacteria and plaque to build up and cause dental infection, gingivitis and possibly gum disease which can all cause your implant to fail.
Dental implants may be cavity-resistant, but plaque can still build up and cause damage to your gums and surrounding teeth. Clearing away cavity-causing bacteria, food particles and biofilm will help protect both your restorations and your natural teeth.
About the Author
Dr. Christopher Capehart is dedicated to providing citizens in the Lewisville area with personalized dental care in a comfortable environment. He graduated Magna Cum Laude with his Doctor of Dental Surgery degree from the University of Texas Health Science Center at San Antonio. Dr. Capehart is a member of the American Dental Association and the Dallas County Dental Society and stays abreast of the latest techniques and treatments by participating in continuing education programs. At Capehart Dental, services include general dentistry, emergency dentistry, restorative dentistry and more. If you have questions about caring for your dental implants, contact the office at (972) 436-1325 or visit the website to schedule an appointment today.
Comments Off

on What to Remember When Flossing with Dental Implants
No Comments
No comments yet.
RSS feed for comments on this post.
Sorry, the comment form is closed at this time.