July 17, 2020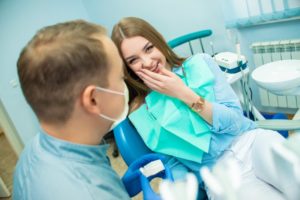 Are you suffering through a major toothache right now? You might think that the only way to relieve your pain is to have your dentist in Lewisville just pull the tooth. However, since missing teeth can lead to a host of oral health consequences, it's best to preserve your natural teeth whenever possible. Fortunately, your dentist can use a root canal to do just that. Keep reading below to learn about why it's much better to save your teeth with root canal therapy instead of an extraction.
When Can a Tooth Be Saved?
Only your dentist can determine whether your affected tooth is still salvageable. The idea behind conservative dentistry is that it's always best to retain your natural tooth structure for as long as possible. Root canal therapy saves damaged teeth from needing to be extracted, allowing you to keep more of your natural smile intact.
Root canals are recommended when the inner portion of the tooth – the pulp – has been affected, but the rest of the tooth can still properly function. However, if the tooth cannot be saved, a tooth extraction in Lewisville will be the best option for your smile. The procedure will keep the damage from spreading.
Benefits of Root Canal Therapy vs. Tooth Extraction
Some of the benefits of undergoing a root canal instead of an extraction include:
Retain more of your natural smile
Allow you to bite and chew without pain
Prevent jawbone loss and other side effects of missing teeth
Pain-free procedure with plenty of anesthetic and sedation options
Procedure with an incredibly high success rate
What to Expect During a Root Canal
While root canals have a scary reputation, there's actually nothing to fear about this treatment. Before the procedure begins, your dentist will numb your mouth to ensure you feel no discomfort. Then, the tooth's pulp is removed, the inside of the tooth is sanitized, and the pulp is replaced with a synthetic gutta-percha material.
Most root canals take two or three appointments to complete. After the first visit, a temporary filling or crown may be placed over your tooth to protect it. Once you've healed in a few weeks, it will likely be switched out for a more permanent restoration.
If you're suffering through serious tooth pain, don't assume you have to say goodbye to that tooth. Instead, you might just have to undergo a root canal in Lewisville. Whatever the case may be, call your dentist as soon as possible to relive your pain quickly.
About the Author
Dr. Christopher Capehart graduated magna cum laude from the University of Texas Health Science Center at San Antonio. He stays active in the dental community through his memberships in the American Dental Association and the Dallas County Dental Society. He is more than qualified to perform root canal therapy to save your tooth and preserve your natural smile. If you're looking for effective toothache relief, contact Capehart Dental at 972-436-1325.
Comments Off

on Why You Should Choose a Root Canal Over a Tooth Extraction
No Comments
No comments yet.
RSS feed for comments on this post.
Sorry, the comment form is closed at this time.