April 23, 2020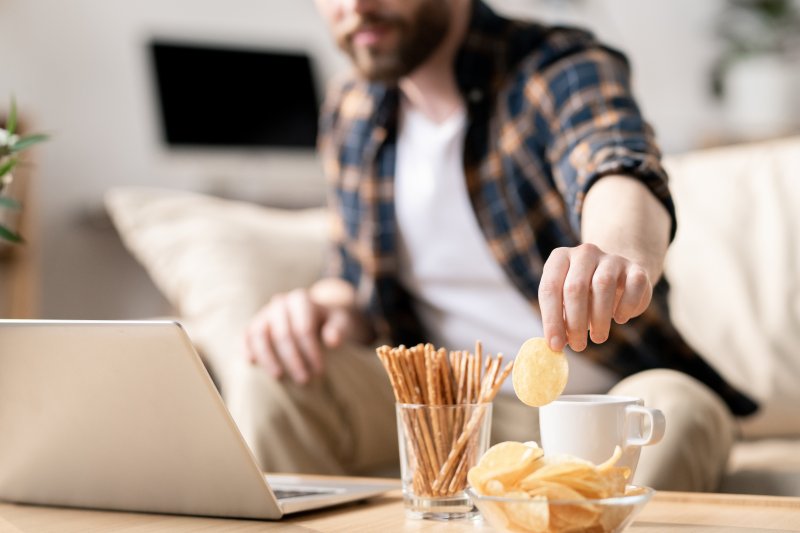 With many of us spending all of our time at home these days, it can be tempting to make a couple of extra trips to the kitchen to grab a snack and pass the time. However, we may not always remember to brush and floss after doing so, and what gets left behind is the perfect fuel for bacteria to cause tooth decay. Some foods are much worse for your teeth than others, so it's important to try and limit how much of the more damaging ones you eat in a day. Read on to find out which foods your dentist in Lewisville recommends you avoid snacking on at home to maintain your optimal oral health.
#1 – Beware Sticky Foods
The bacteria in your mouth love it when food gets stuck on or trapped between your teeth. The bacteria then have plenty of time to break it down, releasing an acid in the process that weakens the enamel layer of your tooth. This happens even faster when the foods are full of sugars. Some common foods to avoid in this category are:
Fruit snacks
Licorice
Chocolate bars
Dried fruit
#2 – Avoid Soda and Coffee
While an ice cold can of soda might be refreshing, it won't do your oral health any favors. Sodas cover your teeth in sugar, giving the bacteria that cause tooth decay exactly what they need to get to work. If that's not bad enough, the carbon dioxide in soda makes the beverage acidic, which accelerates the entire decay process. Energy drinks, flavored sparkling waters, and coffee should all be avoided for the same reasons.
#3 – Watch Out for Certain Fruits
Fruit is good for you, but too much of certain kinds can damage to your teeth. Some fruits contain citric acid, which can weaken your teeth over time. These fruits include:
Lemons
Limes
Oranges
Pineapples
Blueberries
This acid isn't limited to just the whole fruit. Juices containing these fruits will also have the same effect on your teeth.
What Snacks are Good for My Teeth?
Snacks that are low in sugar and that don't stick to your teeth are going the best for your oral health. These include:
Celery
Carrots
Unsweetened yogurt
Nuts
Cheese
Sugar free gum
Keeping your teeth healthy doesn't mean cutting your favorite snacks out of your life completely. Moderation, combined with a well-rounded diet and daily brushing habits, will keep your teeth strong and clean for years to come.
About the Author
Dr. Christopher Capehart is dedicated to helping his patients maintain their oral health both inside and outside of the office. As a member of the American Dental Association and the Dallas County Dental Society, he stays up to date on the latest research in the world of dentistry. He strives to provide his patients with the best possible solutions to any of their dental problems. If you want to find out more information about how to keep your teeth healthy, you can reach him at his website or at (972) 436-1325.
Comments Off

on Want to Keep Your Teeth Healthy? Avoid Snacking on These Foods
No Comments
No comments yet.
RSS feed for comments on this post.
Sorry, the comment form is closed at this time.