September 8, 2023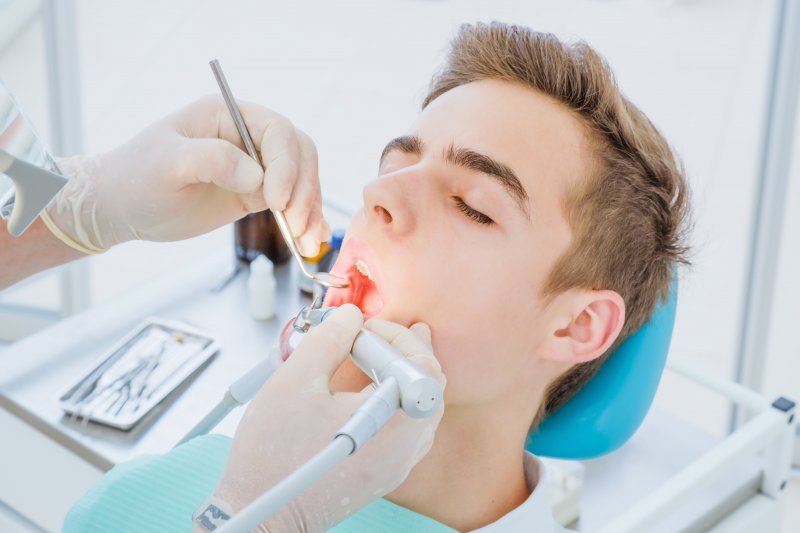 Hustle culture is here to stay, and that means that time is money. So, when disaster strikes, and you need root canal treatment, you need to know specifics. How long are you going to be in the dentist's chair?
To learn the answer, continue reading. This guide will get you the answers fast so you can get back to the grind.
How Long Does Root Canal Treatment Take?
The quick answer—around 60 minutes. However, there are several variables that need to be considered for a more accurate assessment.
Where is the tooth that needs the root canal?
What kind of tooth needs treatment?
How severe is the infection?
Each of these considerations could add time to the equation, so if you want the most accurate measure possible, continue on.
Variable 1: Where Is the Tooth?
Teeth that sit near the front of the mouth are much easier for your dentist to access than teeth that are near the back. Because of this, other preparations may have to be made to comfortably treat your roots.
Your dentist may offer oral conscious sedation to relax your body and mind. While under the effects of sedation, your sense of time is dulled. This will make the procedure seem to fly by. You may not even remember you had the root canal once the effects of sedation wear off.
Variable 2: What Kind of Tooth Needs Treatment?
Teeth come in different shapes and sizes depending on their function. Canines and incisors are used for gripping and cutting. Premolars and molars chew and break food down into digestible chunks.
Each type of tooth has a different number of roots. Since each root takes time to clean, the more roots a tooth has, the longer the treatment will last.
Canines and Incisors – 1 Root, 45 – 60 minutes
Premolars – 2 Roots, ~ 60 minutes
Molars – 4 Roots, 60 – 90 minutes
First, your dentist makes an initial hole in your tooth so they can access the pulp chamber of your tooth. After that, given the average treatment times above, each root takes approximately 15 minutes to complete depending on the dentist and other variables.
Variable 3: How Severe Is the Infection?
This may be the most important variable. Depending on the amount of damage to your teeth and the severity of the infection in your pulp, you could need multiple visits to complete your treatment.
This is especially true if you need additional medication to treat the bacteria in your mouth or if you require a dental crown. The dentist may not be able to complete the treatment in the same visit in either case, which means a return trip.
Knowing what to expect from your treatment can make the difference between a day of leisure with a scheduled interruption and a day of anxiety and disarray. If you need further information on how your root canal treatment will go, contact your dentist and ask for the gritty details. The more you know, the less you'll worry.
About the Practice
Dr. Christopher Capehart is a highly skilled and compassionate dentist, dedicated to serving the Lewisville area. After achieving his Doctor of Dental Surgery degree from the University of Texas Health Science Center in San Antonio, he continued his education through professional organizations to stay current with the latest dental advancements. He values the relationships he builds with his patients and is committed to providing quality dental care for the whole family. To schedule an appointment at Capehart Dental of Lewisville, call (972) 436-1325 or visit the website to learn more.
Comments Off

on A Guide to Root Canal Treatment for Busy Patients
No Comments
No comments yet.
RSS feed for comments on this post.
Sorry, the comment form is closed at this time.