March 8, 2023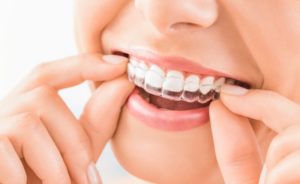 Dental technology has come a long way in the past few decades. No longer is a straighter smile out of reach if you don't want to wear the metal wires and brackets of traditional braces. Invisalign has straightened millions of smiles, with its customized series of clear aligners. However, you may need a little extra boost at the end of your treatment to get your smile absolutely perfect. Read on to learn about Invisalign refinements and how they can push your aligned teeth to the finish line!
What Are Invisalign Refinements?
In general, you can expect the Invisalign process to take about 12 – 18 months to complete. During this time, you wear a series of clear aligners that gently apply pressure to your teeth and move them into their desired position. However, as you approach the end of your treatment, your pearly whites may need a little more assistance to be perfectly aligned. Here's where Invisalign refinements help!
Invisalign refinements are simply extra sets of trays that will "refine" your new smile. They are not much different from your previous aligners and are intended to fulfill your treatment plan and goals. By wearing them just as you wore your other trays, you will ensure your teeth are perfectly aligned.
5 Reasons You Might Need Invisalign Refinements
There are several reasons your dentist may recommend refining your smile after your orthodontic process. These include:
Neglecting to fulfill the recommended wear time of aligners (at least 22 hours a day)
Going extended periods of time without wearing aligners
Skipping the next set of aligners or switching them out too soon
Wearing aligners in the incorrect order
Needing to correct teeth that moved differently than expected
How Can You Ensure Success with Invisalign?
There are several things you can do to make the journey toward your new smile with Invisalign treatment more successful and decrease the chances of needing refinements. Here are some helpful tips:
Fulfill all treatment guidelines, especially the recommended wear time
Maintain an excellent oral health routine to prevent any oral health issues interfering with treatment
Keep aligners safe in their storage case while they aren't being worn; lost or broken aligners can cause delays and get the treatment plan off track
Maintain all check-in visits with your dentist to ensure teeth are moving in the correct way
It's exciting to get the smile you've always wanted with Invisalign. Even if your treatment is extended a bit with Invisalign refinements, your newly aligned pearly whites will make it all worth it.
About the Author
Dr. Christopher Capehart and his team at Capehart Dental keep the smiles of Lewisville healthy and beautiful. He earned his Doctor of Dental Surgery degree and graduated Magna Cum Laude from the University of Texas Health Science Center at San Antonio. With the belief that everyone deserves to smile with confidence, he offers a full range of dental services, including Invisalign. To schedule an appointment, contact him through his website or call (972) 436-1325.
Comments Off

on Completing Your New Smile with Invisalign Refinements
No Comments
No comments yet.
RSS feed for comments on this post.
Sorry, the comment form is closed at this time.