November 22, 2022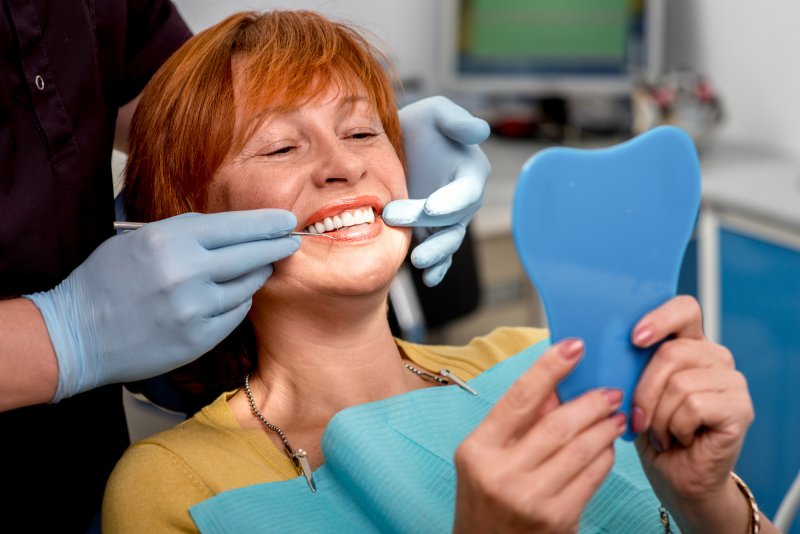 Dentures are a life-changing tooth replacement option for people who are missing several, most of, or all of their teeth. However, when you first get your dentures, there is a bit of an adjustment period where you will get used to your new restoration. During this time, you may find it challenging to speak as you normally would because there is something new in your mouth. Continue reading to learn some tips that can help you adjust to speaking with your new smile!
Repeat Difficult Sounds and Words
After you have new dentures fitted, there may be some words that you find difficult to pronounce. Fortunately, this is completely temporary and with a little bit of practice, you will have no trouble with these sounds. Try practicing by repeating and elongating words and phrases that you find challenging. The letters "S' and "F" tend to be the most difficult for patients to get used to. Practice makes perfect!
Read Aloud to Yourself
Some people are nervous to speak now that they have a new restoration in their mouth. Reading aloud to yourself may be able to help you grow more comfortable speaking with your dentures. Try reading the daily newspaper or a book out loud to yourself. Looking in the mirror can also help by allowing you to see your speech pattern. This way, you will be back speaking to others with confidence in no time!
Speak with a Close Friend or Family Member
Talking with close friends and family members is a great way to improve your enunciation. They can help you to identify which words you are struggling with, and you can practice without worrying about being judged or becoming embarrassed.
Maintain a Normal Volume
You might feel like you're speaking louder than usual when you start speaking with dentures. This is because dentures alter the way that sound travels from your mouth. Keep in mind that others are less likely to notice this, and you will sound more natural over time. Just keep speaking at the normal volume that feels comfortable to you.
Consider a Denture Adhesive
Some patients find that using a denture adhesive helps. Using a denture adhesive can help to secure your dentures, therefore making it easier to speak clearly. Remember to bite and swallow before speaking to ensure that your restoration is sitting perfectly in position.
Speaking with dentures may be frustrating at first, but rest assured, you will be speaking like yourself in no time. With a little practice, your enunciation will be as good as it's ever been!
About the Author
Dr. Christopher Capehart earned his Doctor of Dental Surgery degree from the University of Texas Health Science Center at San Antonio where he graduated in the top 10% of his graduating class. Currently, he is a proud member of the American Dental Association and the Dallas County Dental Society. For more information about dentures or to schedule an appointment at his office in Lewisville, visit his website or call (972) 436-1325.
Comments Off

on 5 Tips for Talking with Your New Dentures
No Comments
No comments yet.
RSS feed for comments on this post.
Sorry, the comment form is closed at this time.