October 3, 2022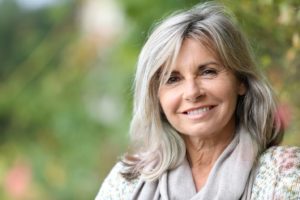 Menopause is an important life transition for women. It is characterized by hormonal changes that affect systems throughout the body. If you are approaching menopause or have already reached it, you might be curious about how it will affect your smile. In particular, you might want to know how it can affect the way your body interacts with dental implants. This blog post delves into that important topic.
Menopause and Oral Health
There are a few noteworthy ways in which menopause can affect oral health:
Jawbone density. During and after menopause, a woman's estrogen levels tend to drop. Since estrogen is important for bone health, menopausal women are at an increased risk of developing osteoporosis. Osteoporosis is a medical condition that causes a reduction in bone strength and density. Unfortunately, severe osteoporosis may affect the jawbone to the point where it cannot support dental implants.
Gum disease. Dry mouth is a common symptom of menopause. Without adequate saliva to rinse away food particles and harmful bacteria, postmenopausal women are at a heightened risk of gum disease. Dentists do not place implants in patients with an active infection in their gums because it is big risk factor for dental implant failure.
Should Postmenopausal Women Get Dental Implants?
The above information might be a bit discouraging, and it is true that dental implant failure rates are higher among postmenopausal women. However, there is no reason to think that you cannot use this tooth replacement method to rebuild your smile. Here are a few important points to keep in mind:
Candidacy for dental implants is determined on a case by case basis. Your dentist will carefully consider all relevant factors before deciding if you should receive dental implants. Countless senior women have undergone this treatment without experiencing any complications.
You have a measure of control. By working with your primary care practitioner and sticking to good daily habits, you can maintain some control over your health. Regular dental visits and excellent oral hygiene can play a role in keeping gum disease at bay.
Implant failure is rare. Dental implants have an overall success rate of over 95%. Just because implant failure occurs more frequently in certain groups does not mean that it is common.
Dental implants offer major benefits. Implants are the best form of tooth replacement. They can protect your jawbone, give you a beautiful smile, and enable you to eat virtually any food. They are certainly worth pursuing!
Menopause causes many changes in a woman's body, but it does not necessarily have to stop you from rebuilding your smile. With the assistance of a skilled dental team, you may soon be on your way to a complete and healthy set of teeth!
Meet the Practice
Dr. Christopher Capehart is a skilled Lewisville dentist who welcomes patients of all ages. He partners with local specialists to provide start-to-finish dental implant treatment. Whether you want help to manage your oral health during menopause, or you are ready to talk about replacing your lost teeth, Dr. Capehart and our team are ready to serve you. Contact us at 972-436-1325.
Comments Off

on How Does Menopause Affect Dental Implants?
No Comments
No comments yet.
RSS feed for comments on this post.
Sorry, the comment form is closed at this time.