May 4, 2022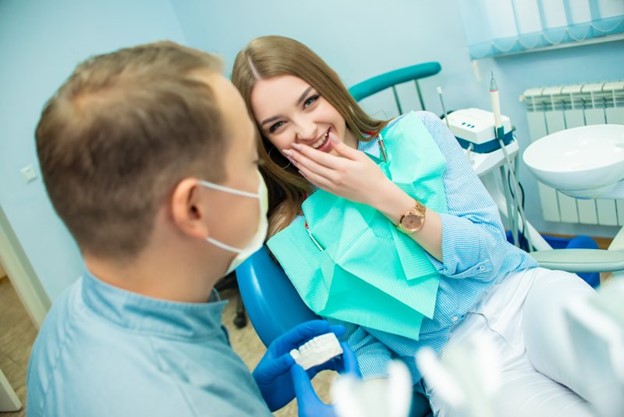 If your dentist has just informed you that you need a root canal, you might already be dreading the procedure! You've seen the movies, you've heard the stories, and you're frightened by the prospect of a painful dental procedure—but you have nothing to worry about! Root canal therapy isn't quite what most people expect, and there is actually very little pain involved. Keep reading to learn more about this procedure and what you can do to ensure a smooth and pain-free recovery.
How Much Pain Is Normal After a Root Canal?
You can expect some mild to moderate pain or soreness after root canal treatment, but it shouldn't be an extraordinary amount of pain by any means. As your body heals, the area around the tooth might feel tender and you might also experience jaw soreness resulting from holding your mouth open during the procedure. It is also worth noting that diligent aftercare following the procedure is one of the most important factors for ensuring a pain-free recovery. Failure to follow your dentist's instructions can easily result in unnecessary and prolonged discomfort!
When Should I Contact My Dentist?
Some discomfort is expected following the procedure; but how do you know when to contact your dentist because of excessive pain? Promptly contact your dentist if you experience the following:
Severe pain that inhibits your daily routine.
Swelling in the affected area.
An uneven bite (when you bite down, the treated tooth feels out of place or too high).
Fever or nausea.
Tips For Reducing Post-Op Soreness
Your dentist will administer anesthesia during the procedure, but once it wears off afterwards you might feel some soreness. This pain is temporary and should gradually fade over the next few days, but there are some things you can do to alleviate your discomfort in the meantime:
Use prescribed or over-the-counter pain medication as instructed.
Apply a cold compress to the affected area to help reduce swelling.
Avoid chewing on the side of the mouth that underwent treatment.
Stick to a soft-food diet for the first few days following your procedure.
Practice good oral hygiene every day; brush, floss, and rinse with an antiseptic mouthwash.
Root canal therapy is highly successful, and many patients undergo the procedure and experience a relatively pain-free recovery that leads towards a healthier smile. In any case, it will save you from the great deal of pain that can result from untreated oral health issues.
About the Practice
Capehart Dental proudly serves patients and families in the Lewisville area under the leadership of Dr. Christopher C. Capehart! Dr. Capehart received his dental doctorate from the University of Texas Health Science Center at San Antonio, graduating Magna Cum Laude, and is a member of the American Dental Association and the Dallas County Dental Society. His practice offers many available services, including restorative options like root canal therapy. To schedule an appointment, feel free to reach out online or by phone: (972) 436-1325.
Comments Off

on I Need a Root Canal: Is It Going to Hurt?
No Comments
No comments yet.
RSS feed for comments on this post.
Sorry, the comment form is closed at this time.