July 16, 2021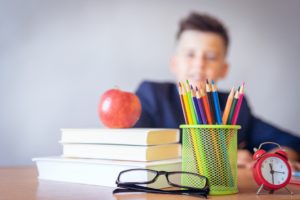 Believe it or not, it's almost time for your child to head back to the classroom. As you get all the necessary school supplies to ensure an amazing year, did you know a healthy smile is also crucial for their academic success? According to the American Academy of Pediatric Dentistry, 50% of children will have at least 1 cavity before the age of 5. Without the right care at home and from a children's dentist, an unexpected toothache can quickly interrupt their school day. Here are 4 tips to help your child start the year off right.
1. Schedule a cleaning and checkup.
Children should see a dentist at least twice a year for a cleaning and checkup. Besides removing harmful plaque buildup, their dentist also checks the health of their teeth and gums to ensure there aren't any untreated dental issues lingering in their mouth, like tooth decay. The Office of the Surgeon General reports over 51 million school hours are lost annually because of dental-related concerns. You can ensure your child spends more time in the classroom and less in the dental chair by scheduling a cleaning and checkup before the new school year.
2. Get back into a routine.
The days of staying up late and sleeping in are over, which means it's time to get your child back into their school routine. Besides eating breakfast and getting dressed, create a back-to-school routine for their smile. Although the mornings are rushed, make sure there is plenty of time for them to brush their teeth for at least 2 minutes before heading out the door. After coming home and winding down for the day, be sure they brush their teeth and floss before heading to bed.
3. Pack healthy snacks.
The foods and beverages your child eats and drinks are influential in combating decay. It's best to limit their consumption of those that are sugary, as well as starches like chips. Although they are a tasty treat, they create cavity-causing plaque that can erode their enamel throughout the day. You can keep their smile healthy and their body nourished by stocking their lunchbox with fresh fruits and vegetables, low-fat dairy products, and water.
4. Get the protection of an athletic mouthguard.
If your child plays sports, don't send them on the field without an athletic mouthguard. It will provide a protective barrier for their smile to lessen the likeliness of a dental emergency if there's an impact to their mouth.
Help your child put their best foot forward as they head back to school. Commit to their dental health to give them a healthy, beautiful smile for a successful year ahead.
About Dr. Christopher Capehart
Dr. Capehart earned his dental degree at the University of Texas Health and Science Center. He believes a beautiful smile can change a person's life, which is why he caters his services to patients of all ages. If your child needs a cleaning, checkup, or an athletic mouthguard before the new school year, contact our office today.
Comments Off

on 4 Back-to-School Tips for a Successful Year
No Comments
No comments yet.
RSS feed for comments on this post.
Sorry, the comment form is closed at this time.