September 22, 2020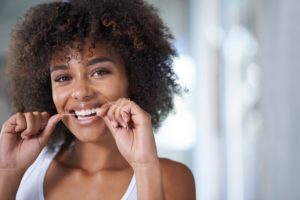 Most of the time, we take having a healthy mouth for granted. That is, until something goes wrong. You may not think that a dental emergency will happen to you, but odds are that one will strike at some point in your life. While these situations can't always be prevented, there are precautions you can take to minimize your risk of having to see an emergency dentist in Lewisville. Here are seven of them.
1. Watch Out for Any Pain or Changes in Your Mouth
Tooth pain is your body's way of telling you something is wrong. It can be tempting to ignore it, especially if it subsides, but it could be a sign of a cavity, fracture, or infection. Any persistent discomfort or noticeable changes in your teeth, gums, or other mouth tissues should be promptly examined by your dentist.
2. Keep Up with an Oral Hygiene Routine
Brushing your teeth as soon as you wake up and again right before bed is a great way to prevent plaque from building up and contributing to painful issues such as gum disease and cavities. Make sure to brush for two minutes at a time. Also, don't forget to floss at least once a day.
3. Replace Your Toothbrush Regularly
Buy a new toothbrush (or brush head, if you use an electric toothbrush) every three months, or earlier if the bristles look frayed or worn. Damaged bristles won't remove plaque as effectively.
4. Reduce Your Sugar Intake
Bacteria that are naturally present in your mouth feed on sugars in the foods you eat, producing an acidic waste product that erodes your teeth and causes cavities. By not eating as much sugar, the bacteria will have less fuel to produce these harmful acids.
5. Wear a Mouthguard When You Play Sports
A mouthguard can protect your teeth from injuries like cracked or knocked-out teeth. Custom-made mouthguards from your dentist fit more comfortably and provide more protection than over-the-counter options.
6. Drink Plenty of Water
Water helps you produce saliva, which mineralizes your teeth and washes away excess food particles and bacteria. Without enough saliva, you're at a greater risk for tooth decay.
7. See Your Dentist for Regular Checkups and Cleanings
Your dentist can detect early warning signs of potential emergencies before they become dangerous. For example, they can spot and treat a tiny cavity before it develops into a major toothache. Attending regular preventive appointments can stop emergencies in their tracks, saving you a whole lot of unnecessary stress.
Dental emergencies are inherently unpredictable and not always preventable. However, by following these tips, you can minimize the chance that an emergency situation will strike.
About the Author
Dr. Christopher Capehart is a dentist in Lewisville, TX who graduated magna cum laude from the University of Texas Health Science Center at San Antonio with his doctorate in dentistry. He remains active in the dental community through his memberships in the American Dental Association and the Dallas County Dental Society. His practice offers quick emergency treatment and is even open on some Saturdays for added convenience. If you find yourself with an unexpected emergency, contact Dr. Capehart's office at (972) 436-1325.
Comments Off

on 7 Tips to Help You Prevent a Dental Emergency
No Comments
No comments yet.
RSS feed for comments on this post.
Sorry, the comment form is closed at this time.