August 10, 2020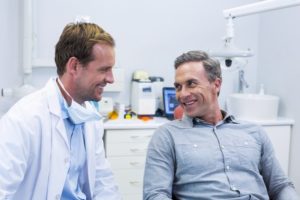 Some people avoid visiting their dentist because of dental anxiety or past traumatic experiences. However, many others shy away from getting the dental care they need because they're afraid of being judged for the state of their smile. You may not want to see a dentist if you're ashamed of your dental habits or what your teeth look like, especially if it's been some time since your last visit. Thankfully, there's no reason to feel this way when you visit your Lewisville dentist! Read on as they share six reasons why you should never feel embarrassed during your dental appointments.
1.) Your Dentist Will Never Judge You
If you're not proud of the state of your smile, you probably don't want anyone to take a close look at it, least of all your dentist. However, as a professional, your dentist isn't interested in judging you or criticizing the condition of your teeth. They're just happy to help you get your oral health back on track! If you ever feel judged by your dentist, it's time to find someone who will treat you with compassion!
2.) You're Not the Worst Case
Despite how much of a toll your dental problems are taking on your self-confidence, it's very unlikely that they're the worst your dentist has ever seen. Even if they are, a good dentist won't recoil in horror or make condescending comments. Instead, they're completely focused on determining the best way to solve your dental issues.
3.) Your Dental Issues May Be Easily Fixed
Many people worry that they've permanently damaged their teeth and gums. Thankfully, with the help of the latest dental technology and techniques, you have more options for correcting your smile than ever before! During your appointment, your dentist will work with you to choose the best treatments for your unique smile.
4.) You Can Prevent Larger Future Problems
Unlike the rest of your body, your teeth can't heal themselves. Even though you may be able to manage your oral health issues right now, the longer you wait to seek treatment, the worse these problems will inevitably become. Visiting your dentist now can save you painful and expensive complications later.
5.) Your Health Could Be at Risk
Your confidence isn't the only part of you that's impacted by the health of your smile. Research shows that leaving issues like cavities, gum disease, and imperfect teeth untreated can increase your risk of serious systemic health concerns. Overcoming your fears to see your dentist can help reduce your chances of developing problems like heart disease and respiratory infections.
6.) You Can Finally Get a Smile You Love
Being embarrassed of how your teeth look can significantly influence your quality of life. That's why your dentist is committed to helping you achieve a smile that looks and feels its best. Seeing your dentist is the first step towards achieving a set of pearly whites you can't wait to show off!
Don't let your embarrassment of your teeth negatively influence your health and confidence any longer. Call your compassionate Lewisville dentist today and achieve the happy, healthy, and beautiful smile you deserve!
About the Author
At Capehart Dental, Dr. Christopher Capehart cares about his patients, not just their teeth! Developing meaningful, trusting relationships and improving his patients' outlook on life with a healthy smile are his favorite aspects of dentistry. He and his team work hard to provide a welcoming and friendly office with state-of-the-art equipment to make dental care as enjoyable as possible. To learn more about Dr. Capehart and his team or to schedule your appointment, he can be contacted via his website or at (972) 436-1325.
Comments Off

on Why You Shouldn't Be Embarrassed at the Dentist's Office
No Comments
No comments yet.
RSS feed for comments on this post.
Sorry, the comment form is closed at this time.