May 27, 2020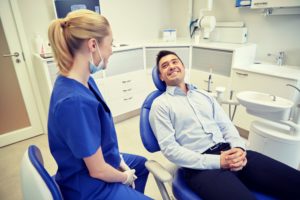 Have you ever run into your dentist or dental hygienist outside of the office? You may have noticed that they were still wearing their stylish scrubs while shopping at the grocery store. However, due to COVID-19, that won't be the case anymore, at least not for the foreseeable future. This is just one of many new precautions that your emergency dentist in Lewisville is taking to help prevent the spread of germs, including the coronavirus. Keep reading to learn why rules like these are necessary, and how your dentist is doing their part to flatten the curve.
Why Is My Dentist Not Wearing Scrubs Outside the Office Anymore?
These days, your dentist (and their hygienists and assistants) comes to work in normal clothes and changes into their scrubs while at the office. Research has shown that germs from the home can be transferred from home to the office, and therefore to the patients, by changing clothes before they reach the office.
In addition, your dentist is exposed to several patients a day, each of them with their own unique set of pathogens. Although your dentist's office is among the cleanest places you could be, sometimes germs can slip through the cracks and onto scrubs. If the dentist then goes to the grocery store, for example, those germs could spread to innocent shoppers and wreak havoc.
Since your dentist wants to do all that they can to halt the spread of COVID-19, they will do their part to follow the CDC's recommended protocols. That includes changing at the office instead of at home.
How Else Is My Dentist Slowing the Spread of COVID-19?
The CDC and ADA (American Dental Association) have their own specific set of guidelines for dental professionals to follow in order to keep their patients as safe as possible. Some of these protocols include:
Evaluating the health of every staff member daily
Not giving out any office tours
Having patients clean their mouths with an antimicrobial rinse before their appointment
Pre-screening patients about their health before they enter the office
Having patients thoroughly sanitize their hands at the beginning of their appointment
Disinfecting every touched surface between appointments
Wearing not only two face masks, but face shields as well
Employing advanced chairside suction techniques to minimize aerosol contamination
Not having toys or magazines in the waiting room
As you can see, your emergency dentist in Lewisville takes personal hygiene incredibly seriously, especially during the time of COVID-19. Rest assured that your dentist's office is extremely safe, thanks in part to the fact that they change into their work clothes at work instead of at home.
About the Author
Dr. Christopher Capehart graduated magna cum laude from the University of Texas Health Science Center in San Antonio with his Doctor of Dental Surgery degree. He holds active memberships in the American Dental Association and the Dallas County Dental Society. He and his team take safety seriously, and follow all of the health practices listed above and more. To learn more about their COVID-19 precautions, visit their website or call them at (972) 436-1325.
Comments Off

on Why You Won't See Your Dentist in Scrubs Outside the Office
No Comments
No comments yet.
RSS feed for comments on this post.
Sorry, the comment form is closed at this time.