February 7, 2020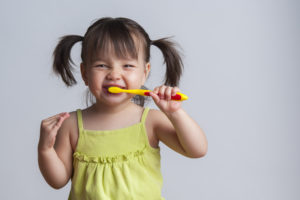 Teaching your child great oral hygiene when they're young is a habit that can benefit them for the rest of their lives. Unfortunately, convincing your little one to regularly brush and floss can be about as fun as pulling teeth if they see it as a chore. To keep those teeth healthy and in place, you need to find a way to keep your child engaged with their oral health. Here are 4 easy tips from your family dentist in Lewisville that can help get your little one excited about taking care of their smile.
1.) Pick Out Fun Toothbrushes and Toothpastes
Allowing your son or daughter to pick out their own toothbrush or toothpaste will help them feel more invested in their own oral health. Children's toothbrushes are specifically designed for young mouths and will often have popular cartoon characters on them. There are also a wide variety of fun-flavored toothpastes available, including options like strawberry, cupcake, and watermelon. Try letting them choose from a few options that you approve of that also have the American Dental Association's Seal of Approval.
2.) Turn Toothbrushing into Family Time
Is it easy for your little one to brush their teeth for a full two minutes? For most children, it can be very difficult to stay focused on brushing for that long. To ensure that they're thoroughly cleaning that precious smile for the proper amount of time, brush your teeth alongside them! This will help make their dental routine feel more like family time instead of a boring chore. As an added bonus, it's a great way to keep up your own great oral hygiene habits.
3.) Pass the Time with Music or Reading
Two minutes can seem like a really long time to your son or daughter. To keep them occupied as they brush, try playing a catchy, upbeat song that they like. A few minutes of listening or dancing to some fun music will keep them entertained and allow you to track how long they've brushed for. Or, if your child prefers, amuse them by letting them read or be read to for two minutes as they brush their teeth.
4.) Track and Reward Their Progress
Giving your little one an incentive or goal to work towards is an excellent way to keep them on track with their healthy habits. Try creating a chart and placing it somewhere they can see. Every time they complete a full brushing routine, mark it with a sticker. The sense of achievement that comes with earning each new sticker will help reinforce toothbrushing with positive feelings. You can even offer rewards for collecting a certain number of stickers, like a small toy, a fun activity, or exciting outing.
Instilling important oral hygiene habits into your child's daily life doesn't have to be a challenge. Set your son or daughter up for a lifetime of happy, healthy smiles with the help of these four easy tips!
About the Practice
At Capehart Dental, you don't have to drive all over Lewisville, TX to get the oral healthcare your family needs. We are dedicated to taking care of all the beautiful smiles you love, from your youngest family member to the eldest. Dr. Christopher Capehart will take the time to understand your unique goals and concerns to help you and your loved ones get the care you need. He'd love to help you take care of your son or daughter's smile, so feel free to contact him via his website or (972) 436-1325.
Comments Off

on 4 Ways to Make Toothbrushing Fun for Your Child
No Comments
No comments yet.
RSS feed for comments on this post.
Sorry, the comment form is closed at this time.