January 31, 2020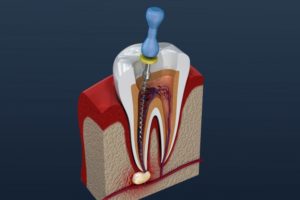 You've heard all the scary rumors about root canals: that they're painful, that they can result in other kinds of sickness. Although there is no truth to these rumors, you probably still want to avoid root canal treatment in Lewisville as much as possible, given that it's a fairly expensive and time-consuming procedure. So, how can you avoid the need for a root canal? Read this guide to find out.
What Causes a Root Canal?
The main reason people need a root canal is tooth decay. If you have even a small cavity that you don't get treated, that decay can spread to the center of the tooth, known as the dental pulp, where the nerves and blood vessels of the tooth are located. At this point, it can result in an infection that causes excruciating sensitivity and even pain when biting down or being exposed to hot or cold stimuli.
The other cause of needing a root canal is from trauma to the tooth. If there is a fracture in your tooth, that could also spread to the pulp, damaging your nerve and causing extreme pain. Your nerve will then have to be removed to save you from this discomfort.
How Can You Avoid Needing a Root Canal?
There are several steps you can take to avoid needing root canal therapy, such as:
Brush and Floss Daily
To keep cavities that necessitate root canals at bay, it's imperative that you keep your teeth healthy and clean. The best way to do this is by brushing twice a day with fluoridated toothpaste and flossing to clean the spaces between your teeth.
Wear a Mouthguard
If you play sports, you should definitely wear a mouthguard. This protective tray that sits over your teeth can be found at any sporting goods store, or you can invest in a custom-made one from your dentist that provides even more protection.
Visit Your Dentist Regularly
Even diligent brushing and flossing isn't always enough to remove plaque and tartar from your mouth that could result in tooth decay. Your dental hygienist can use special tools to clean those hard-to-reach areas of your mouth and prevent infections that require root canal treatment. Schedule a cleaning every six months for best results.
Root canals might have a scary reputation, but there's no need to be afraid of them. Still, follow these tips to avoid needing one. It could save you a lot of time and money!
About the Author
Dr. Christopher Capehart graduated magna cum laude from the University of Texas Health Science Center at San Antonio. During his time there, he was elected to the prestigious Omicron Kappa Upsilon Dental Honor Society. His professional memberships include the American Dental Association and the Dallas County Dental Society. To learn more about how to prevent the need for root canal treatment in Lewisville, you can contact his practice, Capehart Dental, at (972) 436-1325.
Comments Off

on How to Avoid Needing a Root Canal
No Comments
No comments yet.
RSS feed for comments on this post.
Sorry, the comment form is closed at this time.