January 28, 2020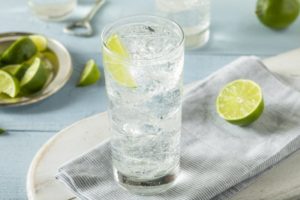 Do you love the feeling of carbonated bubbles popping on your tongue but are conscious about the amount of sugar in soda? You may turn to sparkling water as your go-to refreshing flavored beverage because it's healthier than other alternatives. However, the carbonation can still impact your tooth enamel and overall oral health. Fortunately, your dentist in Lewisville has some tricks to reduce the damage that sparkling water has on your mouth, allowing you to enjoy it without sacrificing the health of your teeth.
Is Sparkling Water Bad For Your Teeth?
It's no surprise that sparkling water is hands-down the healthier option over sugary sodas. However, the carbonation from the beverage can still harm your teeth and potentially increase your risk of developing oral health problems down the road. The CO2 turns into carbonic acid in your mouth, which provides those pops and zesty fizzes on your tongue that make sparkling water so enjoyable to drink. However, that chemical reaction can also increase your risk of enamel erosion. By frequently drinking carbonated water throughout the day, you could make your teeth more susceptible to developing cavities.
What's the Best Drink From a Dentist's Perspective?
Without fail, your dentist in Lewisville would recommend regular tap or mineral water over any other beverage. It helps clear away harmful oral bacteria and food debris, reducing your risk of oral health problems. Tap water also typically contains fluoride, which helps strengthen your enamel. The best way to know when you need to trade in your sparkling water for these substitutes is when you feel tooth sensitivity, which could signify that your enamel has worn down and begun to expose the more sensitive part of your teeth called the dentin.
How Can You Avoid Enamel Erosion Caused By Sparkling Water?
If there's absolutely no way you're giving up sparkling water, there are some preventive practices that you can take to preserve your enamel and reduce your risk of developing oral health problems due to consuming too many carbonated beverages. Some of these include:
Waiting at least 20 minutes to brush your teeth after consuming a sparkling water. That way, your teeth won't be as sensitive to abrasion because your enamel won't be as soft as directly after you drink a carbonated beverage.
Enjoy your sparkling water during a meal, not sipping on it throughout the day without food. The longer the acids linger in your mouth without being neutralized by saliva, the more damage they'll do.
If your mouth becomes dry, drink regular water or chew a piece of sugar-free gum to produce more saliva.
If you regularly drink carbonated beverages, be sure to visit your dentist in Lewisville every six months for checkups and cleanings. They can also provide you with additional tips and tricks to keep your teeth and gums happy and healthy. With these tips, you won't need to give up sparkling water to have a healthy mouth. Continue enjoying this healthy refreshing treat without impacting your enamel.
About the Author
Dr. Christopher Capehart is a native Texan who enjoys providing his community of Lewisville with the highest quality of dental care possible. He is passionate about forming long-lasting relationships with his patients and providing children and their parents with the tools and knowledge they need to optimize their oral health. He is also an active member of several professional organizations, including the American Dental Association, allowing him to stay up-to-date with the latest advancements in his field. For questions or to schedule a routine checkup and cleaning, visit Capehart Dental's website or call 972-436-1325.
Comments Off

on Here's How To Enjoy Sparkling Water Without Harming Your Teeth
No Comments
No comments yet.
RSS feed for comments on this post.
Sorry, the comment form is closed at this time.