October 10, 2019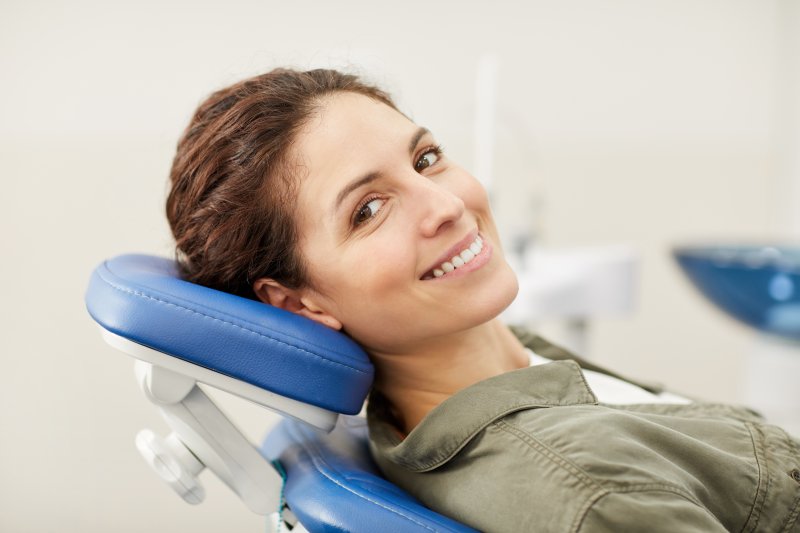 Do you regularly brush and floss your teeth? What about rinsing? Do you maintain a well-balanced diet? It's likely you might say both "yes" and "no" to some of these, but what is important is that you start making strides to improve your oral health. Why? Since October is National Dental Hygiene Month, there's no better time to begin working towards healthier teeth and gums, especially if you want to avoid spending your money on dental work that can be prevented in the first place! Apart from the money you'll save, it's time to consider these 3 additional benefits to maintaining a healthy mouth that should have you making an immediate change.
Look Great and Feel Great: Improved Confidence
When your smile looks like a million bucks, you'll walk around feeling as if you've just hit the jackpot. Whether you're preparing for a job interview, getting ready for a special date, or planning for your upcoming wedding, the moment another person notices your smile, you've made your first impression. Your smile can say a lot about you, so if you take the time to keep your teeth, gums, and even your lips and breath in check, it will be noticed and received in a positive way by others.
No Need to Worry: Reducing the Risk for Decay or Disease
Teeth and gums that are free of harmful bacteria and left behind food particles have a much lower risk of developing tooth decay and gum disease, both of which can lead to serious health-related problems. When teeth become decayed, it can result in severe infections that can cause tooth loss. If gums are diseased and plaque and tartar spread beneath the gum line, not only can it lead to bone and tooth loss, but it can also enter the bloodstream and result in heart attacks, stroke, diabetes, and other harmful health conditions.
Where You Want to Be: Spending Less Time in the Dentist's Chair
If the idea of a great day is spent with your family instead of in the dentist's chair, then it's in your best interest to make sure you keep your smile in good health. No one wants to spend hours having dental work completed, especially if it could have been avoided altogether. Unfortunately, if poor oral hygiene leads to toothaches, infections, or gum disease, you could see time spent with friends and family dwindle. Getting regular dental checkups and cleanings, as well as incorporating regular brushing, flossing, and rinsing into your daily routine can help eliminate future problems and have you spending your precious time with the ones you love.
By spending a few minutes each day cleaning your teeth, gums, cheeks, and tongue, you can rest easier knowing you'll reap the benefits with each passing year. Not only will your family dentist be pleased but so will you! If you're struggling to get into a routine, talk to your dentist to find out how you can start improving your at-home dental hygiene regime.
About the Author
Dr. Christopher Capehart attended the University of Texas at Dallas where he graduated Summa Cum Laude with a bachelor's degree in biology. He then went on to earn a Doctor of Dental Surgery degree from the University of Texas Health Science Center at San Antonio, graduating Magna Cum Laude. With a passion for dentistry, Dr. Capehart develops lasting relationships with his patients, ensuring they receive the highest level of quality care. Ensuring all his patients maintain good oral hygiene is his priority, so whether it is performing a general checkup and cleaning in-office or offering valuable tips and techniques to improve an oral hygiene routine at home, he and his team are here to help. Contact us via our website or by calling (972) 436-1325 to learn more.
Comments Off

on 3 Benefits You'll Notice When Practicing Good Oral Hygiene
No Comments
No comments yet.
RSS feed for comments on this post.
Sorry, the comment form is closed at this time.