September 9, 2019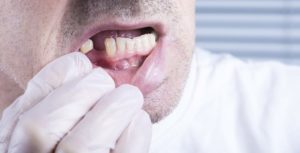 Damaging a permanent tooth is not a laughing matter. Although your teeth are meant to last for a lifetime, 120 million Americans are missing at least one tooth. Besides decay and infection, you might lose an adult tooth from extraction or injury. If it was lost from a fall or blow to the face, time is of the utmost importance. Contrary to what you may have heard, sometimes a knocked-out tooth can be saved if you act fast. You need to take quick action at home and call your emergency dentist right away.
First-Aid for a Knocked-Out Tooth
If you take the right steps at home and you see a dentist right away, your risk of losing a permanent tooth significantly declines. If you find yourself in this unfortunate situation, here's what you need to do:
Find your tooth and pick it up by the crown. Do not touch the root!
Rinse the tooth with a sterile saline solution or milk. Do not scrub your tooth or use any cleaners.
Gently try to push the tooth back into your socket. Hold it in place with gauze or a clean washcloth. If you can't reinsert your tooth, place it in a glass of milk or saline solution. Water can be used as a last resort, but it doesn't preserve the tooth well.
Contact your dentist immediately for a same-day appointment.
Replacing a Knocked-Out Tooth
Unfortunately, not all knocked-out teeth can be saved. If your emergency dentist couldn't successfully reinsert your tooth, you'll need an effective solution to fill the empty space. Depending on your lifestyle and your oral health, you may benefit from:
Fixed Bridge: Your dentist takes an impression of your mouth to replicate the tooth you've lost. It's carefully crafted from all-ceramic material and held in place by reshaping your adjacent teeth to bond dental crowns over them.
Dental Implant: An implant post is placed into your jawbone to act as a new root. An abutment connects a custom-made crown to the post to treat the entire tooth structure.
Preventing Knocked-Out Teeth
You can't always prevent losing a permanent tooth, but there are several things you can do to reduce your risk, like wearing an athletic mouthguard if you play sports. It is also best to avoid using your teeth as tools and don't chew on inedible objects.
Save Your Smile Today!
If you have a tooth knocked out, not all hope has been lost. If you act quickly, your emergency dentist may be able to save your smile.
About Dr. Christopher Capehart
Dr. Christopher Capehart earned his Doctor of Dental Surgery degree and graduated Magna Cum Laude from the University of Texas Health Science Center at San Antonio. He graduated within the top 10% of his class and was elected to the prestigious Omicron Kappa Upsilon Dental Honor Society. He strives to help his patients achieve optimal oral health for lasting smiles. Besides general dentistry, he also offers emergency services. If you have a dental emergency, don't wait. Contact our office today.
Comments Off

on What Do I Do If I Lost a Permanent Tooth?
No Comments
No comments yet.
RSS feed for comments on this post.
Sorry, the comment form is closed at this time.