August 5, 2019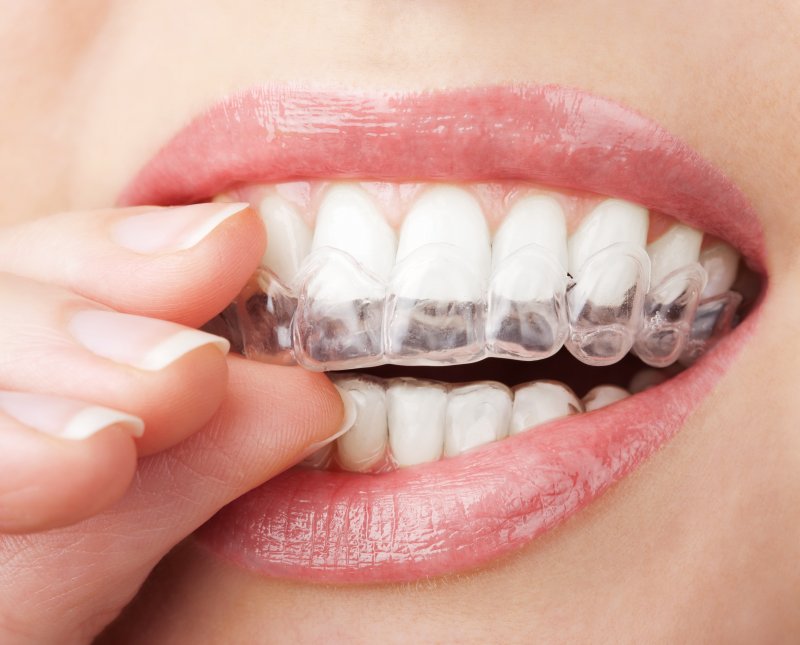 Invisalign in Lewisville offers patients a clear alternative to traditional metal braces. These clear aligners make it possible to not only achieve a straighter smile, but you can do it in a way that eliminates an unnecessary spotlight on your treatment. Whether you're preparing to begin your journey with this truly unique solution or you're still considering your options, find out what you can expect while living with Invisalign.
Does Invisalign Effect What I Eat and Drink?
Fortunately, no, Invisalign will not keep you from enjoying the foods and drinks you love. One of the great aspects of wearing clear aligners is that you'll need to remove them prior to eating, drinking, and cleaning them. This is due to the fact that the trays cannot withstand the pressure of chewing and biting, so feel free to keep your aligners in a protective case while you enjoy that nice, juicy steak!
Will Invisalign Change How I Talk?
In the initial stages of wearing Invisalign, you might notice a slight change in your speech, but over time, this will become nonexistent. Your tongue will need some time to adjust pushing against something other than your normal teeth but don't worry, after a short time, you'll be speaking normally again.
How Can I Keep My Aligners Clean?
You can opt to purchase some of the Invisalign branded cleaning products, or, if you prefer, you can use your normal toothbrush, clear/antibacterial soap, and lukewarm water. You'll want to make sure to clean your aligners each morning and night. It's also important that you brush and floss your teeth after eating because of the possible transferring of bacteria to your trays. It's also important to remember never to use hot water on your trays, as it will warp the plastic.
Will Invisalign Give Me Bad Breath?
As long as you clean and take care of your mouth and aligners, you won't need to worry about bad breath. If bacteria is allowed to grow on your tongue, teeth, and gums, it can lead to halitosis (bad breath), and if your aligners are not cleaned regularly, expect others to stay distant. However, with proper care, you can enjoy a healthy, fresh breath while being treated with Invisalign.
Can I Still Play an Instrument with Invisalign?
This is dependent on the type of instrument you're playing. It also depends on your personal preference. Some people who play wind or brass instruments (i.e. flute, trumpet, etc.) might find it easier to remove their aligners prior to playing. If this is your situation, make sure to keep them in a protective case and reinsert them as soon as you've finished playing.
Will I Still Be Able to Kiss?
Feel free to pucker up because Invisalign won't keep you from kissing. The aligners are subtle and hardly noticeable. Plus, unlike traditional braces that protrude and make it more difficult to lock lips, Invisalign is smooth and fits comfortably on your teeth. You won't have to worry about your aligners falling out or hard metal brackets scraping against your partner's teeth.
With Invisalign, you don't need to make any big adjustments to your day-to-day routine. Your cosmetic dentist in Lewisville will make sure to review the entire process with you during your initial consultation, but if you have questions as to what you can expect or how Invisalign will impact a certain part of your life, don't hesitate to ask during your appointment.
About the Author
Dr. Christopher Capehart attended the University of Texas at Dallas where he graduated Summa Cum Laude with a bachelor's degree in biology. He then went on to earn a Doctor of Dental Surgery degree from the University of Texas Health Science Center at San Antonio, graduating Magna Cum Laude. With a passion for dentistry, Dr. Capehart develops lasting relationships with his patients, ensuring they receive the highest level of quality care. If you're in need of an alternative to metal braces, Dr. Capehart can provide a clear, more aesthetically pleasing solution with Invisalign. To learn more about living with this unique treatment, we invite you to contact us via our website or by calling (972) 436-1325.
Comments Off

on Want a Straighter Smile? What to Expect While Living with Invisalign
No Comments
No comments yet.
RSS feed for comments on this post.
Sorry, the comment form is closed at this time.