June 15, 2019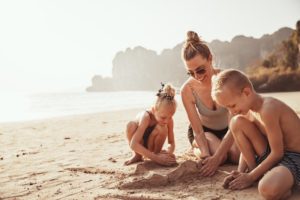 Your long-awaited family vacation is finally around the corner! Instead of spending it comforting your child during a visit with an emergency dentist, spend it vegging on the beach while your little ones build sandcastles. Dental emergencies aren't completely avoidable, but there are some measures you can take to reduce your family's risk of experiencing one. Here are 4 tips to help keep everyone's mouths healthy and happy while you're on vacation.
Pack the Essentials You Normally Use
If you're traveling somewhere you've never been before, access to dental supplies may be slim. They may also be significantly more expensive than at your local grocery store. So, before you head out of town, be sure to restock and pack the essentials that you normally use including:
Toothbrush and toothpaste
Dental floss
Mouthwash
Sunscreen for your lips
Sugar-free gum
Water bottle
If you have a toothbrush holder that you store your brush in, remember to take it out of its container between brushes to let it dry. This can prevent bacteria from growing and transferring to your mouth.
Stick to Your Oral Hygiene Routine
New adventures are exciting, but they're also distracting from your regular routines. Maintaining your oral hygiene on vacation is important and can prevent discomfort from issues such as a toothache. Before you leave, develop a plan to brush and floss each morning and night before you go to bed. Also, rinse your mouth with an antibacterial mouthwash to help clear away food debris accumulated from trying all those new yummy foods throughout the day!
Watch Your Consumption of Snacks Filled with Sugar and Carbs
While you're away from home, you may not have access to a big kitchen and pantry like you do at home. This can make it tempting to grab prepackaged snacks from your nearest grocery store to munch on. The problem with that is that these products are often filled with sugar and carbohydrates, which can cause a variety of common oral health problems like cavities and dental decay.
Instead, try to prepare ahead of time and pack healthy snacks like cut-up fruits and vegetables. Fibrous veggies like celery can actually help remove plaque from the surface of your teeth. Fruits that have a high water content also help stimulate saliva flow and rinse your mouth of harmful bacteria.
Get the Clean Bill of Health From Your Dentist
Before you leave for your trip, schedule all of your loved ones' semi-annual checkups and cleanings with your family dentist. This way, you can have the peace of mind you need to enjoy a hassle-free vacation without wondering about the status of everyone's health. Your professional can spot and treat small problems before they progress and involve serious treatment.
Instead of spending your time with your emergency dentist, spend it on the beach with your toes in the sand! Dental dilemmas can happen at any moment, so follow these tips to can get the most out of your long-awaited vacation.
About the Author
Dr. Christopher Capehart is passionate about providing his patients with the dental treatments they need to maintain smiles they're proud of. He enjoys building long-lasting relationships with his patients and their families. He also keeps up-to-date with the latest advancements in his field so he can utilize the latest methods and technology. For questions or to schedule an appointment, visit Capehart Dental's website or contact 972-436-1325.
Comments Off

on A Dentist Offers 4 Tips to Keep Your Family Healthy on Vacation
No Comments
No comments yet.
RSS feed for comments on this post.
Sorry, the comment form is closed at this time.