February 5, 2019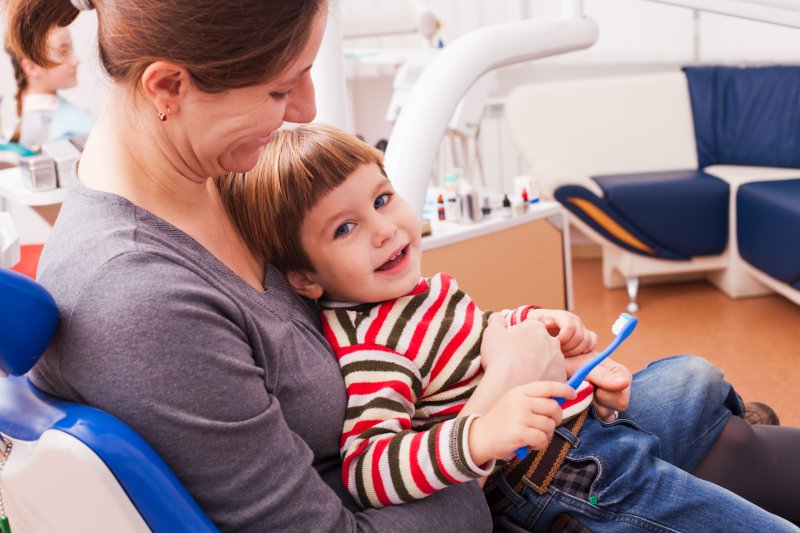 February has been designated as National Children's Dental Health Month, and the aim is to increase the oral health IQ of parents and children. Another goal is to raise awareness about the importance of preventive dentistry. As you read on, you'll learn some facts about kids' dental care and some tips for ways to make improvements that will save you time and money in the future!
Kids' Oral Health Statistics You Should Know About
As part of the educational aspect of National Children's Dental Health Month, here are some key facts that are worth paying attention to:
Untreated Tooth Decay – The leading health concern facing children is cavity development. Unfortunately, nearly half of those with tooth decay won't receive the restorative care they need, which could set them on a downward spiral of poor oral health for the rest of their lives.
Problems at School – Statistics from the Center for Health and Health Care in Schools show that 51 million hours of school are missed due to dental health-related issues.
Children's Teeth Left Unprotected – Over 80% of cavities are on the chewing surface of children's teeth, which means there is a greater chance of there being a reoccurrence. While dental sealants provide an excellent means of protection, less than 20% of children receive at least one.
Because of challenges like those listed above, dentists across the country are ramping-up their efforts to promote preventive care.
How Cavities Can Lead to Gum Disease
It could be said that cavities, untreated, are the gateway to gum disease, which is the inflammation of the gums. The same bacteria that cause tooth decay, if ignored, can eventually work their way beneath the gums to cause germ pockets to form that could also start a domino-effect of health problems in other parts of the body.
Thus, setting a trend of oral care excellence early, can positively impact your child's health well into adulthood.
Ways to Make Improvements
Two ways to boost your child's oral health are to maintain excellent oral hygiene habits and semi-annual appointments with a local dentist. Here's a more in-depth look at each:
Oral Hygiene – At least two times a day, your child should be brushing and flossing his or her teeth. To better ensure this happens, you can set-up a reward system for compliance where you take your child on a fun outing, go shopping for a toy or some other exciting perk.
Dentist Visits – Every six months, you should take your child to visit the dentist for cleanings and examinations. Thus, if there are any problems lurking, they can be addressed early so your little one can have the best oral health start possible.
So to take the proactive approach and shore-up your child's dental wellness, reach out to a local family dentist to schedule a visit today!
About the Author
Dr. Christopher Capehart is a graduate of the University of Texas Health Science Center at San Antonio. The Dallas County Dental Society member takes hours of continuing education to stay abreast of the latest changes, techniques and technological breakthroughs in dentistry. Dr. Capehart provides preventive care for the entire family at Capehart Dental, and he can be reached for more information through his website.
Comments Off

on Concerned About Your Child's Oral Health? Here's What to Do
No Comments
No comments yet.
RSS feed for comments on this post.
Sorry, the comment form is closed at this time.