November 20, 2018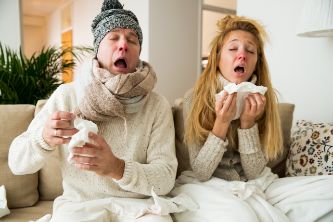 Unfortunately, no one is entirely immune from cold and flu season! Despite your best efforts, you might still get sick and wind up spending days in bed using multiple cold and flu remedies to feel better. You may not think about how these products can impact your smile, but you would be surprised at how they increase your risk of cavities. Keep reading to learn more about the effect of these products and how to minimize your risk. That way you can feel better quickly – and maintain a healthy smile at the same time!
Cough Drops and Lozenges
Many cough drops and lozenges contain sugar. And since you hold them in your mouth until they dissolve, they're just as harmful as hard candy. Not to mention that you can easily go through a handful each day when you're sick.
To avoid this, just choose a sugar-free kind, which are readily available at the store.
Decongestants
One side effect of decongestants is dry mouth, which can have serious consequences for your teeth and gums. Saliva neutralizes the sugars and acids in your mouth that cause cavities and also washes away plaque.
Without it, your risk of tooth decay goes up significantly, but chewing sugar-free gum and staying well hydrated will help.
Cough Syrup
Most cough syrup has a sticky consistency and contains both sugar and alcohol. When these ingredients adhere to your teeth and gums, they can lead to dry mouth and tooth decay. If possible, try to use gel-caps instead.
Orange Juice
Orange juice is a "double whammy" because it contains both acid and sugar. This combination can really do a number on your teeth!
Also, sipping on anything sweet over a long period is much worse for your teeth than consuming it in a short, 10-15 minute period. With that in mind, try to finish your juice in that time frame to reduce the risk of cavities. Afterwards, it's a good idea to rinse with water several times.
What Else Can You Do To Protect Your Teeth?
Try To Maintain Your Oral Hygiene Routine – When you're sick, it's tough to brush and floss consistently, but do the best you can. Also, swish with a fluoride (anti-cavity) mouthwash once or twice a day to strengthen your teeth and prevent decay.
Drink Lots of Water – It's important to drink extra fluids when you're dealing with cold or flu, but try to make water your main beverage of choice.
Chew sugar-free gum – Sugar-free gum is a great way to protect your teeth because it stimulates salivary flow. It's also convenient! If you're away from home and need a cough drop, just chew sugar-free gum afterwards to help minimize the impact.
Schedule a Checkup – When you feel better, schedule a checkup with a dentist in Lewisville to make sure everything is healthy and catch any potential issues when they're small and easy to fix.
Sometimes it's impossible to avoid getting sick. But with these tips, you can still use cold and flu remedies – without putting your teeth at risk!
About the Author
Dr. Christopher Capehart has nearly 15 years of experience as a general, restorative and cosmetic dentist in Lewisville. During cold and flu season he spends extra time educating his patients about the importance of prevention and how to maintain their oral health. If you have any other questions about staying healthy this winter, he can be reached through his website or at (972) 436-1325.
Comments Off

on How Do the Most Common Cold and Flu Remedies Affect Your Teeth?
No Comments
No comments yet.
RSS feed for comments on this post.
Sorry, the comment form is closed at this time.