October 1, 2018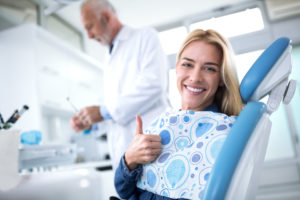 If you have not been to a dentist in the past year or more, you are not alone. In fact, more than 100 million Americans skipped a routine dental visit in 2016, according to the Commonwealth Fund. However, not taking dental checkups seriously can negatively impact your health in a way that is very serious indeed. If you are skeptical about the importance of regularly visiting a family dentist in Lewisville, you will want to read about the health risks that can result from missing routine dental checkups.
How Often Should I See a Dentist?
Between work, running errands and picking up the kids from school, fitting a routine dental checkup into your daily schedule can seem more trouble than it is worth. However, in addition to toothbrushing, flossing and using mouthwash, regularly seeing a dentist is critical to maintaining good oral health. That is why the American Dental Association recommends seeing a dentist for a routine cleaning and exam every six months.
What to Expect at a Routine Dental Checkup
Here is what you can expect when you hop into the dentist's chair at your next routine checkup:
Professional teeth cleaning – Plaque and tartar can accumulate in those hard-to-reach places between teeth even with regular brushing and flossing at home. A regular dental checkup is an opportunity to have your teeth cleaned by a dental professional, which will leave your mouth feeling refreshed and renewed.
Dental X-rays – If you have not been to the dentist in a few years your mouth may have changed a lot. The dental hygienist will take new X-rays of your teeth, so your dentist can identify and diagnose any problems not visible with the naked eye.
Dental exam – After your teeth are cleaned and X-rays are taken, your dentist will examine your mouth and look for cavities, gum disease, early signs of oral cancer and other serious oral health issues. He or she will discuss recommended treatment options for any issues that are discovered.
3 Health Risks of Missing Dental Checkups
Avoiding or missing regular trips to the dentist can negatively impact your health in the following 3 ways:
Increased Risk of Tooth Decay – Without regular professional teeth cleaning, plaque and tartar can build up and weaken tooth enamel and lead to increased risk for tooth decay.
Increased Risk of Gum Disease – Plaque and tartar can also harm the gums. The warning signs of gum disease can be very subtle, which is why it is important to have a dentist inspect your mouth.
Not Catching Oral Cancer Early On – Detecting oral cancer early on – when it is easiest to remove – is critical to overcoming the potentially fatal disease. A dentist looks for signs of oral trouble during every routine visit, including looking for cavities, gum disease, damaged fillings and early signs of oral cancer.
About the Practice
Capehart Dentistry offers comprehensive dental care for the entire family at their conveniently-located Lewisville practice. They know that life can be busy, which is why they stay open late and open on Saturdays to accommodate patients' schedules. To learn more about Capehart Dentistry, visit their website or call the office today at 972-436-1325.
Comments Off

on Why it is Important to Visit a Family Dentist in Lewisville
No Comments
No comments yet.
RSS feed for comments on this post.
Sorry, the comment form is closed at this time.