August 19, 2018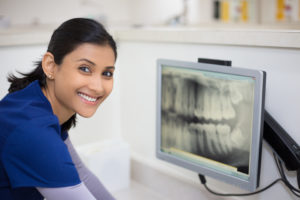 No other form of treatment is as beneficial, or as misunderstood, as the root canal. This helpful procedure relieves suffering and saves teeth in thousands of patients across the country each year. Unfortunately, antiquated or inaccurate information often prevents patients from enjoying the benefits offered by this gentle, comfortable form of dental therapy. Correcting these misconceptions is important for everyone's well-being, since almost all of us may need a root canal at some time in our lives.
What is a Root Canal?
At the center of your teeth is a soft, pliable material known as pulp. It's where you can find the nerves and blood vessels that keep each tooth alive and healthy. The pulp is also the spot where bacterial infections can cause the most harm. This may occur in any of the following circumstances:
When a cavity reaches the pulp and exposes it to potential harm.
When a tooth chips, fractures, or breaks.
When a tooth is injured in any way.
Should any of these problems occur, the patient can suffer pronounced pain, risk of dangerous infections, and other problems. A root canal can often remedy the situation by removing infected material, protecting the tooth against further damage, and emplacing a permanent solution like a crown or filling. As a result, the patient will enjoy freedom from pain, improved health, and a happier, more active lifestyle.
Root Canals vs. Extractions
When a person is suffering from a painful toothache, it may be tempting to simply have the tooth removed rather than trying to save it. But, while this may offer short-term relief, it can also lead to long-term problems in many cases. Here's why:
Even a single missing tooth can add stress to the remaining teeth, subjecting them to harmful stress.
Your jaw works best when you have all your natural teeth in place. A missing tooth can eventually cause jawbone erosion, a serious issue that requires surgical intervention.
Missing teeth can limit your ability to eat a healthy, well-rounded diet, which is essential for your well-being.
For all these reasons, it's usually best to limit extractions to emergency situations.
What to Expect During a Root Canal
Modern dentistry has made root canal therapy in Lewisville not only common but effective and comfortable as well. Here's what you can expect your dentist to do during the typical procedure:
X-ray your mouth to locate the source of the problem.
Numb the affected area to prevent pain.
Apply a small sheet of latex to the affected tooth to keep it dry.
Open the tooth to gain access to the damaged or infected pulp inside. He or she will clean this material, removing any that cannot be saved.
Finish up by applying a temporary filling to guard against further problems.
Afterwards, you'll receive pain blockers and antibiotics to help you until your follow-up visit, at which time the dentist will emplace a permanent solution such as a crown.
In the end, you'll have a restored tooth and all the advantages of enhanced oral health. So don't let fear or misinformation keep you from enjoying all the benefits of modern dentistry. Make an appointment with your dentist today and get ready for a brighter tomorrow.
About the Author
Dr. Christopher Capehart is a magna cum laud graduate of the University of Texas Health Science Center at San Antonio. He's a proud member of the American Dental Association and the Dallas County Dental Societ. You can reach his office online or by calling (864) 963-7237.
Comments Off

on There's No Need to Fear Modern Root Canal Therapy. Here's Why
No Comments
No comments yet.
RSS feed for comments on this post.
Sorry, the comment form is closed at this time.