July 31, 2018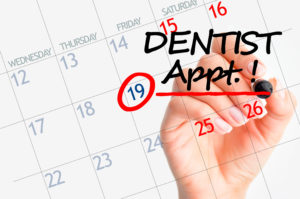 Amid the hustle and bustle of daily life, regular dental checkups can sometimes fall far down the list of priorities – or even off the list entirely! In fact, according to the Commonwealth Fund, more than 1 in 3 U.S. adults skipped a routine dental visit in 2016 – that is more than 100 million Americans! Many people may consider putting off a trip to the dentist to be no big deal, but the consequences of doing so certainly can be. If you are considering skipping your next regular dental checkup, you will first want to read what a family dentist in Lewisville has to say below.
Why Do People Skip Routine Dental Checkups?
When people avoid seeing the dentist – as millions of Americans do each year – it is often related to one of these three reasons:
Inconvenience
Discomfort
Cost
Putting off a regular dental checkup for any of these three reasons, however, could end up backfiring. If oral health problems are not identified and treated by a dental professional they could eventually worsen and require expensive, inconvenient emergency dental treatment or even a trip to the emergency room. Preventive dentistry is key to keeping your mouth healthy now and avoiding more serious dental trouble in the future.
Why You Shouldn't Skip a Trip to the Dentist
The American Dental Association recommends visiting the dentist every six months for a routine dental checkup. Here are a few main reasons why:
Expert Cleaning – Even if you brush and floss your teeth diligently every day, plaque can still accumulate in those hard-to-reach places. During a dental checkup, a dentist or dental hygienist will use special tools to expertly remove harmful plaque and tartar buildup, helping prevent tooth decay or gum disease from developing in a patient's mouth.
Early Detection – Regular checkups are also an opportunity for a dental professional to inspect a patient's mouth for signs of more serious health issues. In addition to checking for cavities, gum disease and damaged fillings, a dentist will look for signs of oral cancer. Catching oral cancer early on when it is easiest to treat or remove is critical to overcoming the disease.
Reveal Invisible Issues – During a dental checkup, a dentist will x-ray the teeth and dental bones to help identify any underlying problems such as tumors, tooth decay, swelling and cysts. Early detection of issues that cannot be seen by the naked eye allows for the appropriate treatment to be prescribed.
Fitting a biannual dental exam into an already busy schedule is not always easy but doing so is critical to maintaining good oral health. If you want to keep your smile healthy and whole be sure to visit a dentist in Lewisville every six months!
About the Practice
Led by Dr. Christopher Capehart, the team at Capeheart Dentistry is dedicated to helping patients in Lewisville and throughout the DFW Metroplex achieve their healthiest smiles. With early morning, evening and even weekend hours, you can always find a convenient time to come in for a regular dental checkup. If you want to learn more about Capehart Dentistry, visit their website today or call the office at 972-436-1325.
Comments Off

on Why You Should Regularly See a Family Dentist in Lewisville
No Comments
No comments yet.
RSS feed for comments on this post.
Sorry, the comment form is closed at this time.