April 10, 2018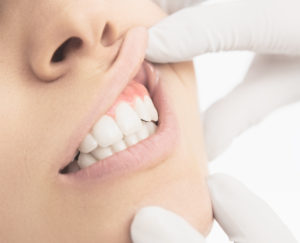 Spring is here and as part of your efforts to promote cleanliness in all aspects of your life, you're looking to schedule an appointment with your Lewisville dentist for a routine cleaning and examination. But what happens if while there your local professional tells you that you need a deep cleaning? Isn't that what you came for anyway? There's actually a difference between the cleaning that you receive at a standard preventive care visit and what is called scaling and root planing. You'll learn about this as you continue reading.
What is the Purpose of the Semi-Annual Visit?
As mentioned above, there are two main purposes of the semi-annual visit to your dentist – a cleaning and examination, and they accomplish the following:
Cleaning – Even if you're practicing consistent oral hygiene, there are chances that you may have some plaque development that you're not aware of. That's because this clear, sticky substance is not easily detected by the naked eye. It collects on the teeth and just below the gum line and emits acids that cause decay. If allowed to sit long enough, it will then form a calculus substance called tartar that is nearly impossible to be removed without professional dental tools. But these nemeses of your oral health will be addressed during your six-month visit.
Examination – After the cleaning is done, you'll receive a thorough examination to check for signs of tooth decay, gum disease and other issues. At this point, your dentist will be able to determine whether you'll need a deep cleaning, which is also referred to as a scaling and root planing. But what's the difference between the latter and a regular cleaning?
What is a Scaling and Root Planing Procedure?
If your dentist discovers that plaque has worked its way beneath your gums into the pockets between your soft tissue and the roots of your teeth, he may recommend a deep cleaning. In this procedure, he'll pull back your gums to expose the affected area. Then he'll clean beneath the gums and smooth the rough area around the roots of your teeth to prevent it from attracting more bacteria.
After the procedure, you'll be able to work with a clean slate and make the necessary improvements to prevent any oral maladies related to bacteria growth in the future.
How to Prevent Bacteria Accumulation
After you've received a deep cleaning, one of the best ways to prevent bacteria accumulation in the future is to be sure to brush and floss your teeth at least twice a day. This rids your mouth of the harmful agents of chaos that seek to promote decay. To get the status of your oral health and a thorough cleaning, feel free to reach out to your local dentist to schedule an appointment today!
About the Author
Dr. Christopher Capehart graduated Magna Cum Laude from the University of Texas Health Science Center at San Antonio and has since gone on to provide his patients with comprehensive and compassionate care. He practices at Capehart Dental and can be reached for more information through his website.
Comments Off

on Your Lewisville Dentist Mounts an Attack Against Bacteria!
No Comments
No comments yet.
RSS feed for comments on this post.
Sorry, the comment form is closed at this time.