April 5, 2018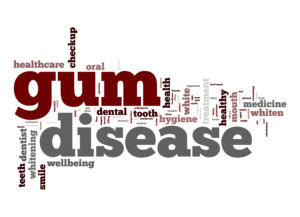 It's a warm spring afternoon, and you're planning on heading minutes up the road to downtown Denton to enjoy a cup of coffee and visit your favorite bookstore. You look into the mirror and notice that your gums are bleeding while you brush your teeth, and this leaves you with a strange feeling that something isn't right, so you want answers. Your local dentist says you may have periodontal disease in Lewisville and warns you not to ignore these symptoms. Learn more about this condition as you continue reading.
What is Periodontal (Gum) Disease?
Gum disease is the infection and inflammation of the soft tissues that support your teeth. It stems from bacteria that have gathered on your ivories and along the gum line. Over time these bacteria form into plaque – a sticky substance that coats your teeth and soft tissues. This harmful substance then releases acids that set off a chain reaction of decay, infection and inflammation.
Here's how periodontal disease progresses:
Gingivitis – This is a stage that you definitely want to catch gum disease in because the damages are reversible. You may notice red, puffy, swollen or irritated gums giving warning that a problem exists. Your local professional will review your oral hygiene practices with you to ensure that you are properly cleaning your mouth, teeth and gums.
Early Stage Gum Disease – If allowed to progress, your gum disease will then cause permanent damage to the ligaments and bone that hold your teeth in place. Your dentist in Lewisville may suggest the use of a medicated mouthwash, improved oral hygiene and that you visit more than the standard semi-annual schedule so that your oral health can be closely monitored.
Advanced Gun Disease (Periodontitis) – At this stage, you may notice that your teeth feel loose. This is because there has been permanent damage and destruction of the connective bone and ligaments. Your dentist may use a more invasive method of cleaning like a scaling and root planing procedure, where he pulls back your gums to expose your tooth roots. He'll thoroughly clean the area and smooth the roots of your teeth to remove any calculus build-up.
How to Fight Gum Disease!
Thankfully, gum disease is preventable. Here are three basic methods of defense that you can employ:
Oral Hygiene – Your consistent efforts to brush and floss your teeth at least twice daily are super vital to your oral health. The combination of the two helps to eliminate bacteria and plaque from your teeth and gums.
Healthy Eating – To maximize your efforts, try to make healthier food choices. Selecting a piece of fruit over a slice of pie to fulfill a sweet craving goes a long way in the realm of oral health. This is because bacteria love the simple, processed sugars found in snack foods. The natural sugars found in fruits in vegetables, though, aren't nearly as detrimental to your teeth and gums.
Preventive Care – The final piece of the puzzle are your semi-annual visits to your dentist for cleanings and checkups. These appointments allow your trusted professional to monitor your oral health and guard against the development of gum disease. He'll also offer pointers on how you can improve your oral hygiene and prevent a minor issue from becoming major.
So if you're ready to give your precious soft tissues the protection and care they need, just reach out to your dentist to schedule an appointment today.
About the Author
Dr. Christopher Capehart earned his Doctor of Dental Surgery degree from the University of Texas Health Science Center at San Antonio, graduating in the top 10% of his class. He remains just as passionate about helping his patients attain healthy smiles as he was when he first graduated. Dr. Capehart can be reached for more information through his website.
Comments Off

on Here are the Keys to Fighting Periodontal Disease in Lewisville!
No Comments
No comments yet.
RSS feed for comments on this post.
Sorry, the comment form is closed at this time.