Dental Implant Aftercare – Lewisville, TX
Maintain Your New Smile for a Lifetime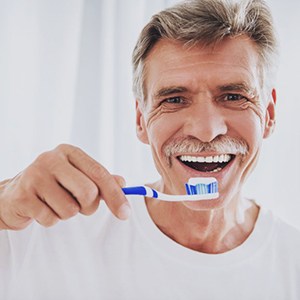 One of the best aspects of dental implants is their remarkable ability to last for decades. They can actually provide you with a whole lifetime of sturdy function and realistic aesthetics – but only if you take proper care of them. Fortunately, maintaining your dental implants in Lewisville is not that difficult. Below, we have listed three of the most important steps you can take in ensuring your new smile lasts.
Make Oral Hygiene A Priority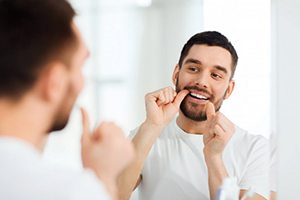 Without a proper oral hygiene routine, bacteria could infect the area supporting your implants, ultimately increasing your risk of implant failure and other painful complications. Here are some easy tips to help you keep your mouth clean and drastically reduce your risk of infection:
Brush twice a day. Always brush along the gumline and the backs of your teeth, both your real ones and those supported by implants.
Floss at least once daily. For patients with an implant-retained bridge, you may need to invest in a water flosser or floss threader to effectively clean around your restoration.
Rinse with an antibacterial mouthwash. Capehart may be able to recommend a product tailored to your specific oral health needs.
Stay hydrated. By drinking plenty of water, you should produce plenty of saliva to rinse away bacteria that might otherwise compromise your implants.
Protect Your Dental Implants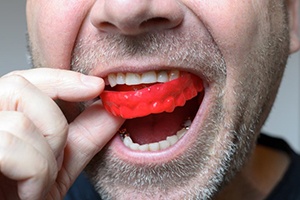 Trauma or injury might damage your restoration or the implant itself, or even cause the implant post to become loose. To lessen the likelihood of these instances occurring, you should:
Wear a nightguard if you grind your teeth. The pressure of unconscious teeth grinding can place undue stress on your implants as well as your natural teeth.
Wear a mouthguard if you play sports. Even if your choice of physical activity is not a "contact sport," you should still protect your smile from trauma.
Be aware of your surroundings. Slipping and falling could spell disaster for your smile. Always walk carefully and be cognizant of your surroundings.
Schedule Regular Recall Visits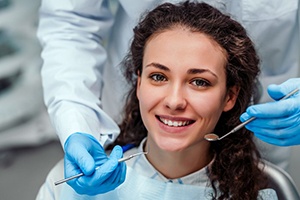 No matter how many natural teeth you have left, it's still massively beneficial to attend checkups and cleanings with your dentist in Lewisville on a regular basis, usually at least twice a year. At these appointments, your remaining teeth will be inspected and cleaned, and your implants will be evaluated. Dr. Capehart may be able to detect problems early enough that they won't damage your implant or overall oral health. Not to mention, you'll always leave our office with that nice, clean mouth feeling!
At Capehart Dental, we want to help you maintain your new smile for a lifetime. Whether you need to replace your missing teeth, or you just need a checkup, don't hesitate to contact us today!